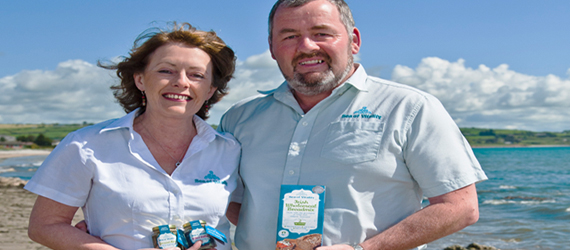 In 2012, Thomas & Ria Jones set up Sea of Vitality to re-introduce seaweed into the daily diet. After attending a workshop on foraging and cooking with seaweed, Tom and Ria were astounded by the nutritional benefits of consuming seaweed. "We were absolutely blown away by how genuinely super this food was. We had left our secure jobs to move to Dungarvan as part of a 'lifestyle' change and we quickly realised that seaweed should be an important part of that change" says Ria.
Sea of Vitality was primarily started to allow people to enjoy the benefits of seaweed in everyday foods. Working with a traditional brown soda bread recipe we tweaked the ingredients by removing the sugar and salt and replaced them with finely ground kelp seaweed. The result is a moist, light, sweet bread with a beautiful savoury aftertaste. It was so popular that we started to supply local stores in Dungarvan and Waterford with the baked bread. In late 2013, we ceased baking the breads and developed a bread mix version for retail along with two jars of ground seaweed to be used as seasonings and salt replacements.
We now have these products in over 50 SuperValu outlets in Munster and Leinster. They are also on shelf in Kuala Lumpur, Malaysia and Kuwait. We are also developing a fourth retail product which we will launch in 2016.
Being part of the Food Academy has helped us enormously over the past couple of years. At the time of going on shelf in 2014, using seaweeds in everyday foodstuffs was rare and we are so delighted that we were given the opportunity by SuperValu. As a result of Food Academy, it is now not uncommon to see many different innovative small businesses including seaweed in their products. It also gave us a perfect platform to meet and educate SuperValu customers on the benefits of our products and ways in which to use them. Over the years we have built up a very loyal customer base which is continuing to expand.
We source all our raw material, seaweed, from the Irish West Coast. In doing so we have created much needed trade with small emerging businesses along the coast. In recent years, we have started to export seaweeds to places such as New Zealand and Greece. This added income stream is crucial to the success of small and medium enterprises engaged in aquaculture along the West Coast.