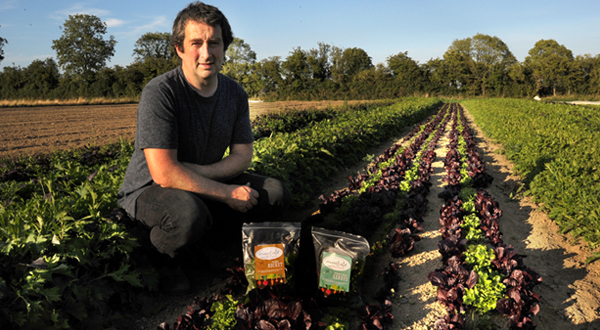 Riversfield farm is a small family run farm located in Callan Co. Kilkenny. We returned to Callan in 2010 with the vision to build a sustainable and ethical business which could provide a living for our family and produce quality tasty food, organically and locally.
Following studies at Organic College Dromcollogher and receiving certified organic status from IOA in 2013 we have grown the business by supplying restaurants all over the county including 2 Michelin star restaurants. We farm to strict organic principles using crop rotations and green manures. Our produce is sown, grown, harvested on the farm which ensures that it is consistent, reliable and of the highest quality. Our products are chemical and pesticide free. They will not have travelled hundreds or thousands of air miles before reaching the plate. Our customers can be assured that the food they receive from Riversfield farm has been sown and grown with care and dedication. We show respect to the soil and the land which provides tastier, cleaner produce.
Riversfield farm is now an established, well respected business in Kilkenny with a proven reputation for quality. We have strong links with Savour Kilkenny, Taste and recently were asked to participate in a promotional video with Catherine Fulvio showcasing the best of Irish produce in the South East.
SuperValu has helped to encourage and support our business to think bigger and reach a wider customer base. SuperValu has promoted local, authentic Irish food and recognizes the increasing demand from customers for food which is traceable, ethical and produced in a manner which seeks to reduce harm to the environment and the land. SuperValu has provided an education on marketing, branding and business startup.
Riversfield farm already provides employment in the local area and we are confident this will expand. We also offer third level students the opportunity to complete their placements on the farm which increases knowledge and skills in organic farming.