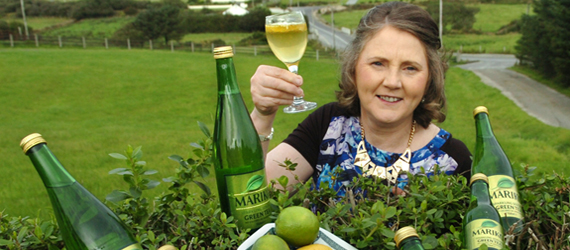 In 1994, Christine Mc Andrew took a very innovative leap into providing healthy lunches to her local secondary school in Belmullet Co Mayo. This was quickly followed by an invitation from thirteen national schools .Providing healthy food and drink has been Christine's pledge to her customers.
By 2011, media was focusing on sugar-laden soft drinks and the effects this has on our health. Obesity was fast becoming a problem worldwide and the finger was pointed at sugar and high consumption of sugary drinks.
Tea and 'ready to drink' tea was quickly becoming one of the world's most consumed beverages and  research surrounding green tea and its health benefits boosted its popularity. While in America on a career break, Christine experienced first-hand the popularity of sugary iced tea and the volume of consumption was staggering. On return home to Belmullet, Christine immediately started to work with College of Agriculture in Northern Ireland and Teagasc to create a unique and wholesome tea beverage.
In 2014, Pure Glan Food Ltd was formed. Christine bought a new brewing unit and a variety of premium Sencha green tea leaves from Japan.  Using a unique brewing formula and years of dedication resulted in an amazing achievement in Mariko –'ready to drink' healthy, refreshing and naturally delicious refreshment. Mariko Sparkling Green Tea is Ireland's first carbonated 100% natural brewed green tea. It contains no sugar, no fat and no calories. It contains a proven high level of green tea anti-oxidant (EGCG)
Mariko is now available in SuperValu stores and restaurants all over Ireland in 750ml and 250ml glass.
We are very proud to say SuperValu was so essential to bringing Mariko to market Thanks to the brilliant mentoring and support offered to us through the Food Academy programme.