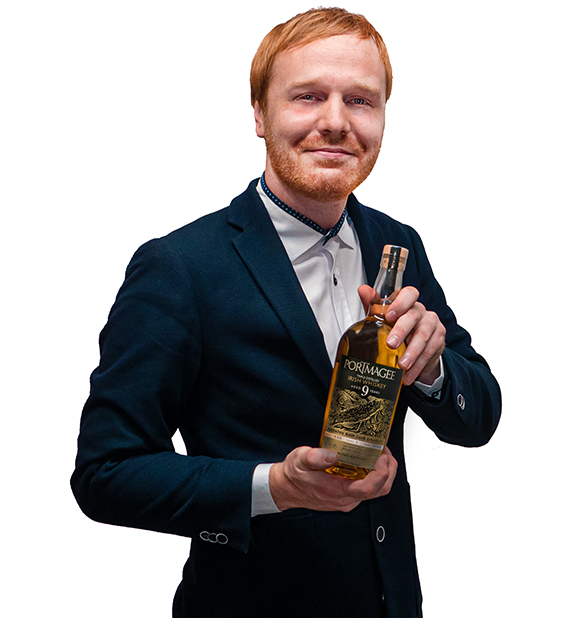 Portmagee Whiskey crafts small batches of Barbados rum cask finished Irish Whiskey. Our people are passionate and proud of Portmagee and we seek to grow in harmony together with our village.
Portmagee Whiskey was founded in early 2017 by two brothers John and James Murphy from Portmagee, Co. Kerry. John and James have a site in Portmagee that was the Royal Irish Constabulary (RIC) Barracks until it was burned down during the Irish War of Independence. The land was subsequently acquired by the Murphy family and has been passed down from generation to generation. The Murphy brothers now seek to restore the building as part of the Portmagee Whiskey Experience and micro-distillery. The brothers are joined by Stuart McNamara, a well-known Irish Whiskey writer, bringing his extensive knowledge and passion for whiskey to the team. Together they have created a brand that truly reflects the rich history and traditions of Portmagee and its people.
The Portmagee spirit, logo and branding honour the traditional Seine Boat and maritime heritage of South Kerry and also Portmagee's colourful history as a 1700's smuggling port under Captain Theobald Magee and his strong-willed wife Brigid Morgell. Every generation of the Murphy family has continued the proud tradition of Seine Boat racing in Portmagee. Portmagee Whiskey is inspired by the mixture of wooden boat and wild Atlantic waters with its own combination of oak wood and 'Uisce Beatha'.
Portmagee Whiskey is a Bord Bia - Origin Green registered company and as such, have committed to a number of specific goals based around sustainability and energy efficiency. We are working on these plans and developing the business with a long-term sustainability goal in mind. A business that promotes the best of what Portmagee and South Kerry have to offer while still celebrating our history and traditions. Some features we will be including in the experience design include PV solar electricity generation, energy efficiency lighting systems and rainwater collection. We have already planted over 5 acres of natural Irish woodland on site in Portmagee including oak trees as part of our sustainability plans.
SuperValu through the Food Academy program has helped Portmagee Whiskey to get established and supported in its home county of Kerry as the brand develops awareness and constructs its own micro distillery and visitor experience centre in Portmagee. The team hopes this will one day provide opportunity and adventure for current and future generations in the picturesque little village of Portmagee.