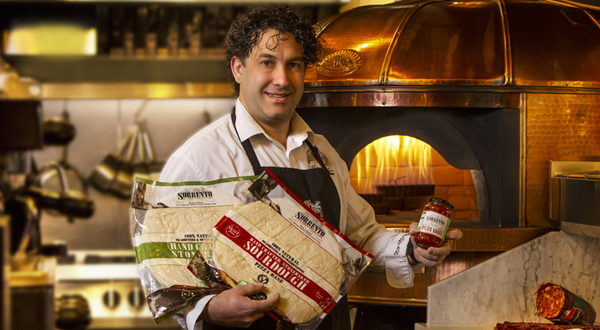 Pizza Sorrento was established in 2013, setting up a small pizza production unit at the back of one of my restaurants in Killbarrack. We started to supply local cafés and restaurants with the same handmade artisan stone-baked pizza bases that we used in our restaurant. It was shortly after that we started to get request's to supply some local retailers and before long our demand was surpassing our supply. We decided that we needed to move to larger premises and set about looking for the right unit in Dublin to produce the Pizza Sorrento brand. We also needed to source the right machinery in Italy that would allow us to produce more volume whilst maintaining the premium quality of the original family recipe.
We moved into our new pizza unit in March 2015 and set about working on growing our business across both the retail and foodservice market, producing "Handmade Fresh Italian Pizza bases daily". Our recipe and production method is authentic to maximise the product taste and quality whilst maintaining the premium artisan pizza base. We use no additives or preservatives and our proven process ensures that all our dough balls are proven for a minimum of 24hrs. This is part of our family recipe that has been handed down from generation to generation from our family bakery on the Amalfi coast; the other secret is our Italian pizza flour, which is exclusive to Pizza Sorrento.
Our pizza recipe has been in my family bakery for over 70 years and it was in that bakery that I learnt my trade as a master baker; under the guidance of my father and his father. It was here that the recipe for Pizza Sorrento was created!
One of the first retailers that gave us an opportunity and support was Jim Treacy and his team in SuperValu Churchtown and we have had great support from all of the local SuperValu's across Dublin over the past couple of years. We enrolled in the Food Academy last year after seeing the great success stories been told by SuperValu and agreed that we needed to get Pizza Sorrento involved in the process. Last month I was delighted to tell our staff of six that we were successful in the program and that our product range would be available "Exclusively" in all Supervalu stores nationwide. We hope to grow our staff numbers to 10 by the end of 2019 with the potential additional business through the Food Academy program!
SuperValu Food Academy has helped us review the way we do things and as part of this, we will be launching our traditional Sorrento Pizza base and sauce along with our exciting first to market "Sourdough Pizza base" in our "New Look" branding as part of the nationwide SuperValu Food Academy launch in January 2019!
Thank You
Giorgio Lisi
Owner & Master Baker