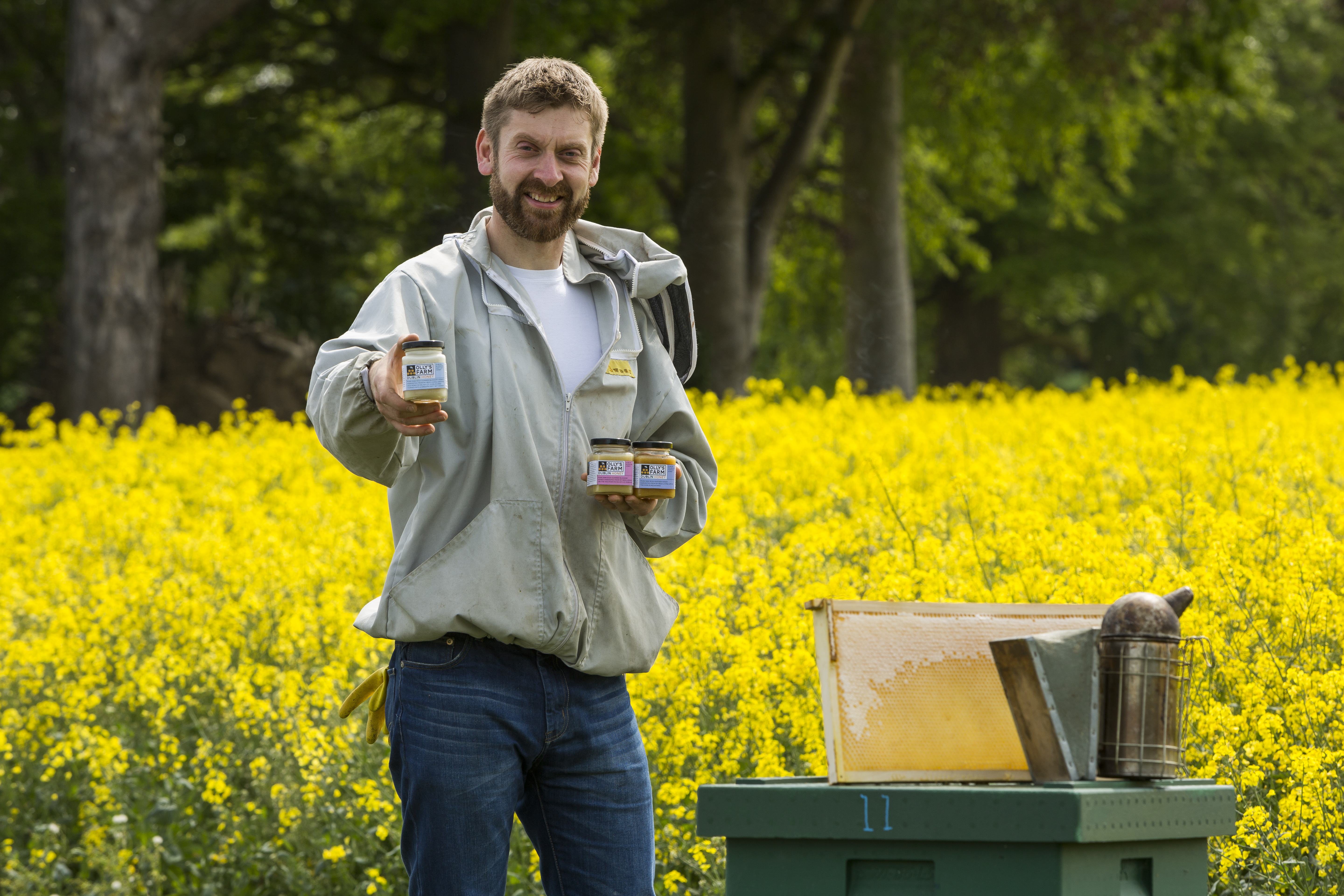 My name is Olly, I'm a smallholder living up in the Dublin Mountains. In September 2012, after a lot of searching around Dublin, myself and my partner Chris bought a house with some land up in the Dublin mountains in the beautiful valley of Glenasmole and set about making it into a smallholding.
Our goal was to be as self-sufficient as we can, both from a food point of view and energy, and combining it with modern living. It's a constant work in progress, with trials and errors.
I'm now producing several different types of raw honey.
I'm also a beekeeper producing truly local raw honey collected by my bees in their beehives around South County Dublin and North Wicklow. Some of my bees live in pretty nice and interesting places such as the roof of the Teeling Whiskey Distilery, Powerscourt Estate and Killruddery House & Gardens. It is sold as raw honey; this means that the honey is not processed or pasteurised in any way. The honey is simply extracted from the frames and cold filtered into the jar. I think by heating the honey you lose some delicate flavours and also destroy most of, if not all of the health benefits associated with consuming local raw honey.
SuperValu have been a great help on this journey in the form of the Food Academy, they have provided the opportunity and the tools for small artisan producers like myself to get our produce onto the shelves of our local stores. The Food Academy takes a group of artisan producers under their wings and give workshops and mentoring sessions to help us artisan producers compete with the big boys and this in turn puts money back into the local economy.
I'm hoping to continue growing my number of beehives (currently 73) over the coming years. As I expand I hope to be stocked in more shops around Dublin.
As I grow and expand I'll need help working with my bees and I'll be looking for people interested in a career in beekeeping to come on board to help with this.
Recent Awards;
o McKenns's Guide Best in Ireland 2019
o Great Taste 2018 2 Gold Stars for my Blossom honey
o Great Taste 2018 2 Gold Stars for my Heather honey
o Blas na hEireann 2018 bronze for my Blossom honey