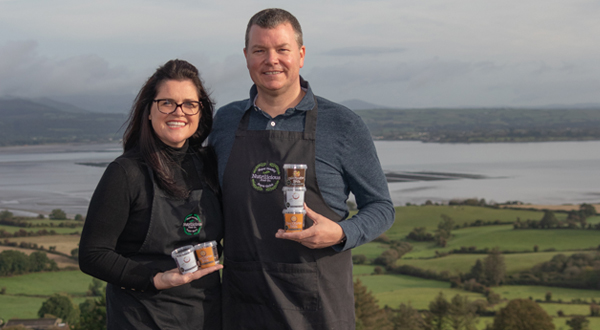 Nutrilicious Food Co is an Irish company founded by husband and wife duo Brian and Yvonne Dillon from the sunny southeast seaside town of Dungarvan County Waterford.   In 2017 both ready to commence a new chapter in their lives with their 2 young boys they decided to start their own food business producing food made with ingredients which nourish from the inside out. 
The word Nutrilicious was scribbled on the centre of a large whiteboard and placed on their kitchen wall going back as far as 2013. Over time this whiteboard grew into an overcrowded space of ideas, words, names, to do lists, courses, suppliers, customers, marketing, designs, logos etc  
Yvonne a qualified Nutrition and Health Coach and Brian trained at the Ballymaloe Cookery School to upskill even further this gave them necessary skills and confidence to bring Nutrilicious Food Co to life. 
At present they are happiest working from our Nutrilicious kitchen producing
A healthy alternative range of treats and snacks for retail
Our treats and snacks are made with a handful of natural wholesome ingredients and ideal for the person looking for a healthier alternative energy snack (gluten and wheat free, paleo, refined sugar free). In 2019 Brian and Yvonne invested in brand new packaging (tubs and lids) all 100% recyclable and BPA free.  They also actively encourage their customers to reuse old pots for storage, they are also ideal for their own homemade snacks and treats.
Weekly Thursday Market Stall in Dungarvan Food to Go menu
Home and Office Catering Service
Nutrilicious Cookery Demos
Our goal is to organically grow Nutrilicious Food Co into a recognisable, successful, trustworthy Irish food brand of nutritious and delicious food.