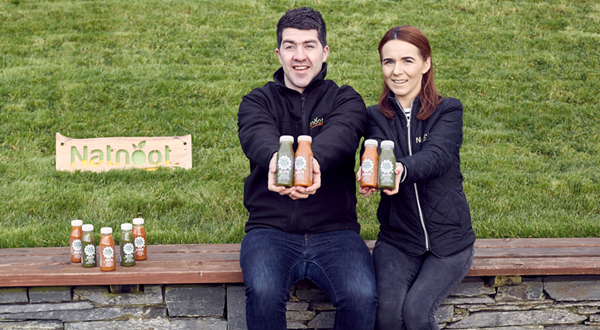 Hi, I'm Derek, together, with my wife Anna, we run Natnoot. At the age of 12 I was diagnosed with a very rare, progressive, untreatable eye condition called Stargardts. This condition means that I am losing my eye sight and I am currently registered blind. Due to severe and rapid sight loss in my teens, I found school difficult. In my early 20's, I found it very hard to maintain a job with my sight deteriorating.
Then, in 2014, at the age of 27, I was using wheatgrass juice to try take on more nutrients naturally. I had an idea to produce ready-made wheatgrass juice products because I found the process of juicing wheatgrass quite cumbersome and I believed that other people probably did also. So I set about creating our first product. With support from my Anna my wife, Donegal Local development Company and family, I started my business.
I began growing wheatgrass and making wheatgrass juice shots. I went to a local market to sell the wheatgrass juice shots. The product proved very popular and I built up a strong customer base. This allowed me to invest more money back into the business to buy more raw materials and packaging which lowered my costs, every month I could buy more and more materials. Then I expanded into supplying shops.
Month on month the business grew, literally! I needed more growing space so I rented a commercial unit where I could increase production and expand our network of stockists. At this unit, I made a juicing kitchen inside and I grew the wheatgrass outside in polytunels.
In 2016 we started Letterkenny Artisan Market at the same location in an adjoining warehouse. This was a weekly food and craft market where other small producers could come along every Saturday to sell their goods to the public, as well as another opportunity for me to expose my brand and products to the public. Through this market, I met a now good friend, Chris Molloy who owns the Lemon Tree Restraunt in Letterkenny and in 2017 we started an annual Food Festival called Off The Street Food Festival and last year we had over 5000 visitors on our 2nd event.
Through all of this, I was able to reach more and more of the public to increase my brand awareness and ultimately grow sales by promoting our outlets. I developed 4 more products and to date, we supply around 40 stores. I have created full time employment for myself and part-time employment for my wife Anna. The income from my business allowed me to go back to college and obtain a professional qualification.
We both feel so excited about what's to come in the future. We are passionate about creating products that are convenient and that work for people living busy lives. We are NatNoot!