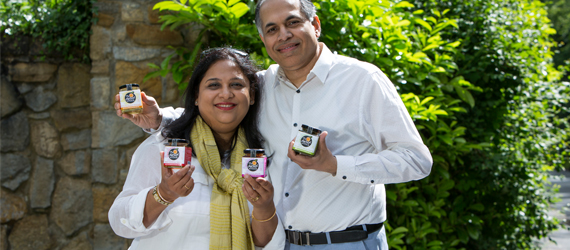 My Apricot Kitchen started in 2015 with lunch markets in George's Quay, Dublin and moved have moved to food production in 2017 and are going to be producing from Churchtown Business Park, Dublin 14
We grew up on the natural freshness and taste of  the wholesome comfort food of ma and grandma. On looking back realise how thoughtful, loving and innovative they were. Growing up we pursued other careers,  graduated as a fashion designer, after juggling with two kids and roaming with my techie husband across the world ended up being a cake designer which gave me few accolades. Being passionate foodies we discovered the richness of diverse cuisine of each place, thoroughly enjoyed them and started recreating them in our kitchen. The overwhelming appreciation of our dishes in social events and parties highlighted our potential and motivated us to cater to a bigger audience and on the advice of friends decided to  try lunch markets where we catered to a diverse group. The lunch markets turned out to be a great success and we were happy to see the satisfied faces of our customers many of whom also expressed interest in take home food like  sauces and pastes. We then started creating our own products and subsequently shortlisted a set of sauces where the original flavours are maintained while adapting them to the Irish palette as some of them could be very strong. To make the products enjoyable to everyone we have used the freshest locally sourced ingredients and all our spices are hand ground. As we have it every day our products do not contain any preservatives or artificial colours or flavours and are 100% vegan and vegetarian. We take immense pride in our quality and are committed to maintain it. We are creating the flavours of the world your way, hope you continue to enjoy it.
Once we had decided to start were initially trying to figure out the next steps, we got the reference of the Food Academy Program from a friend and applied. Looking back it seems like the best decision as we received enormous guidance on the different facets of starting up a new business and also have been receiving valuable tips on branding, financing, best practices and nuances of the regulatory and compliance requirements.
This opportunity from SuperValu is a tremendous boost for us in starting up and getting a platform to market our products. They have also shared their experience of the retail industry, guided us in competitively positioning our products and also provided valuable tips for branding.