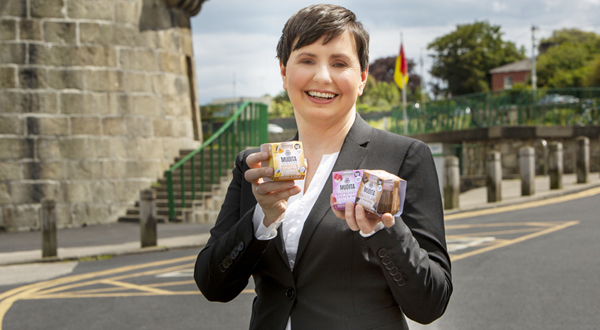 All my life, as long as I can remember, dessert has been my favourite part of any meal. I don't think there was a dessert that I didn't like. After spending many years in the hotel business, I turned to creating my own successful business baking macarons for weddings and corporate events in the Dublin area. This lasted for 4 years.
In 2017 I was confronted by a serious health issue and I had to review my diet completely. I turned vegan overnight, cutting out all animal products, but also all gluten and refined sugars to facilitate the treatment and recovery process. I believe that making this change made recovery much easier, and I felt all the better for it.
However it did mean no more desserts. No matter how hard I searched I couldn't find any dessert that I could eat. Anything I craved either contained gluten, dairy, eggs, refined sugar or soy products. Don't get me wrong, I like energy bars and balls, but these are not dessert. Thus started the idea of creating my own range and in January 2019 "Mudita" was born.
"Mudita" is a Sanskrit word meaning rejoicing in others wellbeing and good fortune. After overcoming my illness I felt this was a very appropriate name for my new venture.
The desserts are a raw, vegan-friendly mousse range, which means that the ingredients are unprocessed and unpasteurized, keeping all the original goodness intact, and keeping out all unnecessary additives. The mousses are nut based using lots of fresh fruit or cacao powder, and Agave syrup as a sweetner. They are creamy, light and definitely moreish! My range is suitable for anyone who is health conscious, lactose intolerant or coeliac, but especially for anyone who enjoys dessert!
I was fortunate to participate in Supervalu's Food Academy, which taught me invaluable lessons regarding the food business, as well as giving me access to a mentor who guided me along the way. I have come away with a completely new skill set and appreciation in how the food industry works. Equally important Supervalu is providing me with a platform from which to introduce my products to a wider audience. With a growing population suffering from gluten and lactose intolerance, I have always wanted my products to be readily available and easily accessible. Supervalu is giving me the chance to achieve this, for which I am very grateful.
As I grow my business over the next year and beyond, I look forward to employing people who are just as passionate about vegan-friendly desserts as I am and hope to supply Supervalu stores throughout Ireland.