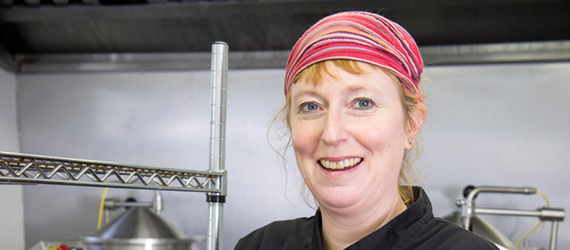 Mella's Fudge makes good, old-fashioned fudge; rich, buttery, crumbly fudge that is so good, it is the only Irish fudge to have ever achieved three gold stars at the Great Taste Awards in London.
Bantry born Mella started to make fudge for her local sweet shop as a schoolgirl. Then back in 2005, keen to work for herself and armed with the knowledge that there was a lack of great quality fudge on the market, Mella started the business from her kitchen in Timoleague, Co Cork. Fast-forward to 2016 and you can now purchase Mella's Fudge in over 100 shops across Ireland, and more in the UK and France. 
Mella is currently taking part in the Food Academy programme, which helps small producers to get their products on SuperValu shelves. This means that Mella's Fudge is now available in SuperValu stores from Kinsale to Castletownbere, and from Mallow to Tralee. This has been a fantastic opportunity for the business to grow, and has contributed to Mella's Fudge employing an extra full-time person.
From her production facility in Lisavaird Co-op outside of Clonakilty, Mella produces four flavours for you to dither over; vanilla, rum & raisin and Irish cream liqueur – all using the best of ingredients such as proper vanilla extract and real Jamaica rum, and of course, the key ingredient throughout, locally produced Irish butter from the lush pastures of West Cork. She also brings out a Spice & Orange flavour at Christmas which, like all the flavours, is available in gift boxes for someone special, or just lovers of old-fashioned fudge anywhere.
Fudge is naturally gluten free and the Vanilla 48g bar is practically guilt free – both in calories and cost! So put on the kettle, make yourself a cuppa and sit back with Mella's fabulous fudge. You deserve it.