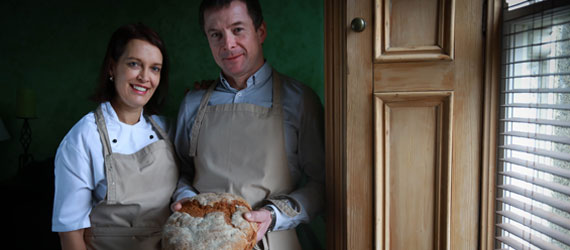 Mags' home baking is a family run bake house operated and run by husband and wife team Pat and Mags Bergin, at our purpose-built bakery at Shesheraghkeale, Limerick Road in Nenagh, Co Tipperary. We both grew up in homes where local buttermilk, butter and fresh eggs were used on a daily basis to produce delicious homemade breads and cakes.
Having delicious family recipes available to hand Mags realised there was a significant local demand for traditional baked goods like scones, tarts and Soda breads, and so with a passionate love of good quality food, patience, determination and perseverance Mags' home baking began….The old family recipes that are used today were handed down from Mags' grandmother.

We produce a range of innovative healthy products including our best-selling spelt and honey bread.Wholemeal bread, traditional buttermilk soda bread, Low GI multi seed bread, Quinoa amaranth and spelt bread, buttery fruit scones, Meringues and Pavlova bases made from free range eggs and Apple tarts using fresh bramley apples that we peel, core and slice ourselves! from "the Apple farm" in Moorstown Cahir and rhubarb tarts that we bake using rhubarb we grow ourselves supplemented with some sourced directly from local growers. We are passionate about the quality of our breads and pastries which are stone oven baked and handmade in small batches using quality, natural, wholesome, locally sourced ingredients you would find at home in your own kitchens! We don't use additives, colours or preservatives, so you can only expect the highest standard of quality.
We feel we have a moral duty to our customers to be true and honest in the ingredients we use in the products. We bake with a strong personal ethical code around our responsibility to offer and supply products to the highest standards which includes the ingredients and process that has brought us to where we are today.
We operate a fully manual process using spelt flour, wholemeal flour, pinhead oatmeal and bran, our breads are hand crafted and baked in a stone based deck oven which gives a lovely aroma, flavour and texture to our products.
The Food Academy program has been fantastic for our business, SuperValu has given us the opportunity to expand to other areas, we have grown our business significantly. We have vans on the road by 5am each morning delivering fresh breads to the neighbouring counties. We are delighted to be part of the everyday lives of the people of Tipperary, Galway, Clare, and Limerick.