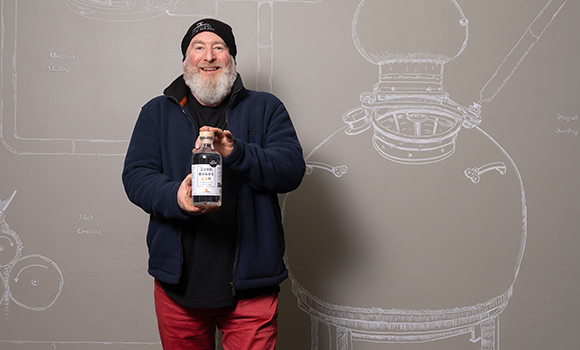 Eoin Holmes, the Founder and Head Distiller of Lough Mask Distillery, has been devoted to the wild Mayo landscape since fishing there as a child.
Today, his distillery is as much an award-winning spirits producer as it is an ode to the rugged, lakeside mountains wherein it lies. His award winning Loch Measc Gin takes the surrounding countryside as its muse, and is made with Lough Mask water and wild flower botanicals.
"I use wild honeysuckle, fuchsia and elderflower which I forage from the lake shore. As for the distilling itself, we use an ancient type of still, called an Alembic Pot Still, the design of which hails back to the dawn of distilling. While they may not be very sophisticated, they do produce wonderful spirit… slowly, very slowly!"
"I'm inspired by the wonderful combination of robustness and gentleness, of resilience and creativity in the people that surround Lough Mask. Our spirits aren't genteel and overly refined; they're robust, flavoursome and just a little bit wild."
An avid cook and coffee enthusiast, Holmes came to distilling relatively recently. He worked for years in the music industry (Sony, BMG, Oasis, Manic Street Preachers, Aslan, Bowie) before working in the film and television business (Paths to Freedom, Bachelors Walk, The Clinic).  "During one of our family holidays in Mayo, my family and I decided, on the last day, that we were staying! That's how we rather unexpectedly found ourselves living in Westport. Now I had a fantastic opportunity to pursue a new dream."
I have long learned f that there's no point in asking your family what they think of your latest production. While developing Loch Measc Gin, I knew I needed to find some tough critics to help me get to the world class standard I was after. Well, on my doorstep is Ashford Castle, voted Best Hotel in the World! When I thought I had cracked my recipe I took a bottle over to the castle and their legendary bar manager, Noli Alngohuro, politely took a bottle and disappeared into the bowels of the castle. About a week later Noli called me - the sommeliers loved it, the bar staff loved it, he loved it, but, most importantly, his customers loved. We were on!"
Lough Mask Distillery's first off-licence customer was SuperValu in Westport, and quite a few SuperValus local were very quick to stock the gin. "I cannot emphasise enough how important the support of SuperValu in the area is to small operations like us."
A little over one year on and Loch Measc Gin is on sale in all the major airports, hotels, pubs and SuperValus in Mayo and Galway. Lough Mask has recently shipped its first ever export order to the UK.
"I love this part of the world. Secretly, I thought I could marry two passions, do a bit of distilling and a bit of fishing… So far that plan has proved disastrous—since starting production I've had no time to do any fishing!"