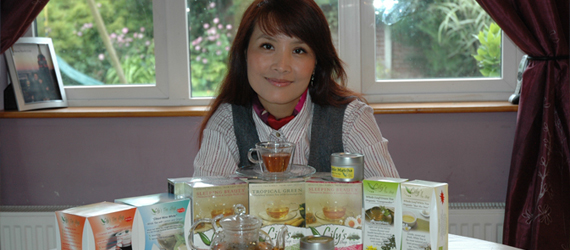 Lily Chen and Dominick McGroddy have been married for 10 years and live in Termonfeckin, Co. Louth with their 2 young children. Dom is from Dublin, and Lily is from the southern China province of Fujian, very well known as one of the major tea producing regions of China. Lily and Dom both come from a construction supplies business, in fact, that's how they met. Both hold MBAs and were senior managers in an international construction supplies business. Growing up with great leaf tea, Lily developed a passion and knowledge about tea types, grades and flavours. In Lily's home town Oolong, White and Green Tea would be very popular.
After the construction and economic crash in 2008, following redundancies for both Lily and Dom, they decided to explore the possibility of starting a specialty Tea business from their home in Termonfeckin, Co Louth. Lily developed her business as a sole trader in 2009, and Lily and Dom formally began Lily's Tea Shop as a full-time business in 2014 with the help of the Food Academy programme.
The Food Academy really gave Lily and Dom the opportunity to bring their exceptional tea to a broader market in a structured way.
Over the last 10 months, Lily and Dom have developed their market reach with the Food Academy programme and now supply their tea to 70 nationwide stores and counting.