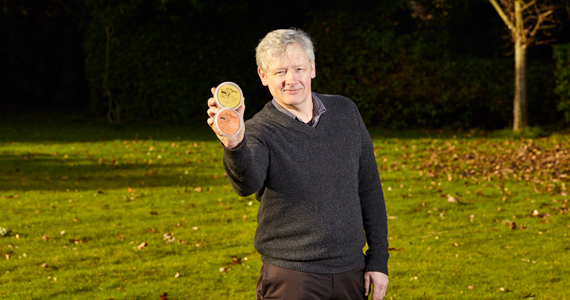 Thierry Peurois grew up close to Saint-Malo, where his parents ran a traditional "Boucherie-charcuterie" business. In October 1996, shortly after arriving in Ireland, the Brittany man set up Le Paysan in the current location of the Happy Pear in the heart of Greystones. Initially, this was a thriving delicatessen with a few tables on the sunny pavement.
Following a strong family tradition, all the food was freshly made using the best of local ingredients. The word went around amongst the ladies, and press reviews praised the small French eatery, putting Greystones for the first time on the map as a foodie destination. "It was crazy, at lunch we were packed and often people waited in their car for a free seat on our terrace!" Say Thierry. In 2000, seeing the appétit for its food, Le Paysan expanded and created a restaurant above the shop, serving earthy French country style lunch and dinner, in house and to take away.
In 2006, Le Paysan relocated to Bray, focusing on the production of premium gluten free ready meals, soups and pâtés. Le Paysan was a strong start up business and with the support of Supervalu stores and other independents retailers, the brand was having a strong presence in the south Dublin/Wicklow area. Due to unforeseen circumstances, Le Paysan stopped trading in 2010.
Thierry's dream didn't stop there though. Learning a lot from his previous experience in the retail sector, and willing to share his passion for cooking using local products, he kept looking at opportunities and saw a gap in the market for Artisan Irish free range/local pâtés. Le Paysan was re-born and moved into its new premises in the Wicklow Enterprise Park in May 2017 and has been creating its new product, a scrumptious Irish Free-Range chicken liver pâté and a savage Vegetarian pâté. Since October 2017, Le Paysan chicken liver pâté is available in local Supervalu stores in Wicklow town, Greystones, Deansgrange, Churchtown and Mount-Merion as well as some independent retailers in the south Dublin/Wicklow area. "Our new pâté has been very well received by the consumers. It is also a pleasure to reconnect with them after so many years. I missed them!" says Peurois. Le Paysan is shortly bringing its new vegetarian/vegan pâté to the market.
Le Paysan has recently completed the Food Academy Program with the support of Wicklow local Enterprise Office, Supervalu Ireland and Bord Bia, and will have its full range of pâtés available from the Food Academy section in a Supervalu store near you soon.
You can follow their story on Facebook @lepaysan and on Twiter Le Paysan @LePaysanWicklow