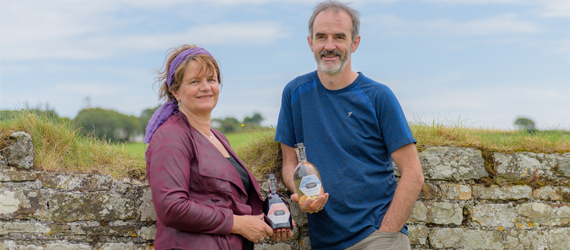 Kinsale Mead Co was founded by Kate and Denis Dempsey in 2016 to rediscover the ancient art of mead making and to create a delicious, refreshing new Irish drink. They lovingly hand-craft each batch with care and passion and source the best natural ingredients.
What is mead? - the world's oldest alcoholic drink, with a glorious global history 9,000 years old and counting. It's unique in that its primary ingredient is honey but also incredibly diverse – it can range from very sweet to bone dry, which can surprise when you know it comes from honey.
They make their meads at their new meadery in Kinsale, the first in Ireland in many years. The town holds a special place in their hearts as it was where they were married.
The inspiration for their meads comes from sourcing natural ingredients from the local environment as well as reflecting the rich tapestry of trading and maritime history in Kinsale and its beautiful location in West Cork at the start of the Wild Atlantic Way.
Their honey comes from Spain along traditional trade routes to Kinsale, particularly the orange blossom honey in their Atlantic Dry Mead. Their Wild Red Mead is a melomel mead type, made from solid fruit and natural fruit concentrate including Wexford blackcurrants.
They developed their process from a blend of ancient recipes and modern techniques. They mix the honey and fruit with Inishshannon water and then sit back to let nature and time turn it into their delicious mead. Perhaps over time, the salty air from the wild Atlantic will add its own unique flavours.
Their journey wouldn't have been possible without the great support and guidance from working with the Food Academy at Supervalu and Bord Bia.
Kate and Denis hail from Coventry and Rosscarbery in West Cork. After raising a family, they decided it was time for a change. And at some point they joked, why don't we start our own meadery? Where do you go to make that kind of decision? – for them, it was on the Hill of Tara in the footprint of the Great Mead Hall where they said 'Why not?'
They sold up, told the kids (how to shock your friends and family – tell them you're leaving hi-tech, multinational jobs to make mead) and headed south. Now they're working hard, making mead wonderful mead in their new home in West Cork.