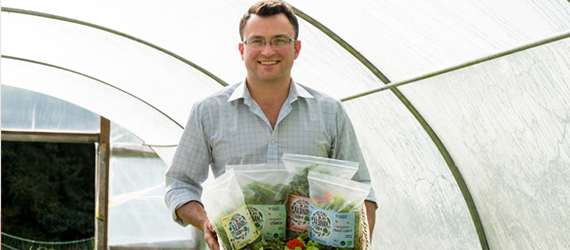 My name is Rory Magorrian from Kildinan Farm. We have an Organic farm located in the hills surrounding Ballyhooly in North Cork.
Originally from Dublin, I moved to Ballyhooly in 2001. When I was made redundant from printing in 2009 myself and my wife Sheila decided to start our own business and grow organic vegetable and mixed salad leaves. In February 2014 we became fully certified organic with the Organic Trust.
We have always been supported by our local SuperValu in Fermoy, but with the help of the Food Academy our business has taken off and we are currently in SuperValu stores across Cork and Tipperary. Occasionally we have interns from the Organic College and people who are interested in growing organic.
Our organic leaves are picked the day before they are delivered to your local SuperValu so you have the freshest, tastiest produce to choose from. Because we are organic absolutely no sprays or chemicals are used on our farm.