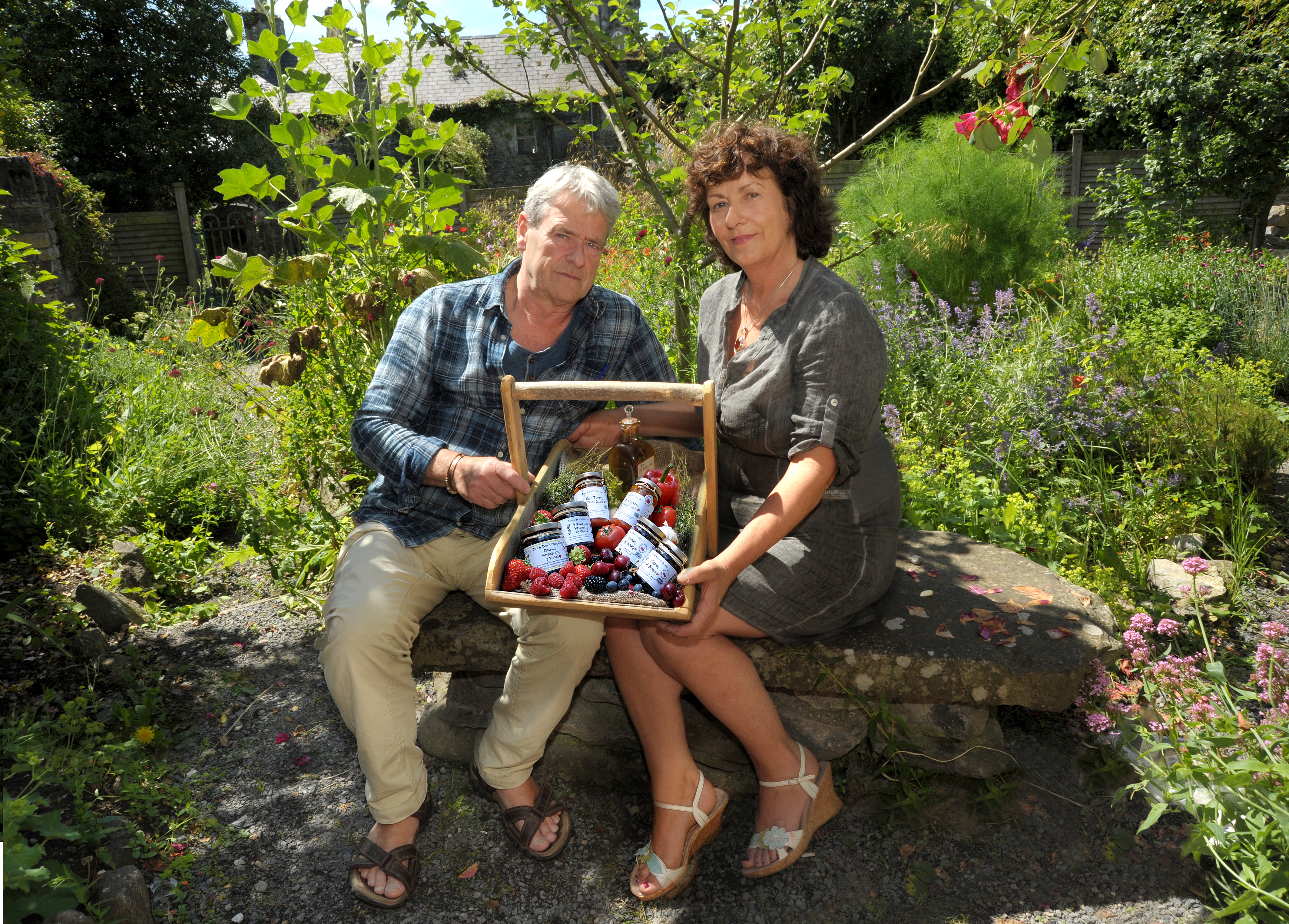 Joan and Bob from Kilkenny met at Art School where they trained as Fine Art painters and teachers. They both have a passion for preserving, and since meeting aged 19, they have made everything from jams to chutneys, pestos to sauces to beer, cider and even champagne!
After Art College, Bob worked full-time for many years as a Barman in a busy bar/restaurant while Joan worked as a part-time Art Teacher and freelance artist whilst raising their three children together. In 2011 we unfortunately both lost our jobs due to the recession.
However, this turned out to be an amazing opportunity for us. We realised we had the skills and the provisions to make a living for ourselves doing something that we loved doing at home in our own kitchen. In 2013 Joan & Bobs Juicy Jams was born!
While our farming backgrounds and the jam-making skills our mothers handed down to us were key to our business, we decided to do something a little different! We wanted to make jam cool again, and make it worthy of the top shelf. Being the creative types we are, we couldn't help mixing it up a little; coming up with unique blends such as 'Strawberry, Peach & Prosecco' or 'Wild Elderberry, Blackberry & Pinot Noir', not to mention 'Strawberry, Raspberry & Vanilla' - our top seller! Our unique flavour combination jams were a great hit, and gave Joan the confidence to go back to college in WIT during 2013 to 2014 to study Food Production with Business where she graduated with Honours.
The preserves are handmade in small batches using seasonal fruit and only the natural pectin of the fruit is used to set the jam. In addition, our unique slow cooking method enhances the fruit's flavour and colour-goodness! You can really taste the difference.
Our artistic backgrounds are reflected across the branding of Joan & Bob's Juicy Jams, with each of our labels featuring drawings and watercolours by Joan. Then Bob and I, together with help from our children (Luke, Bobby James and Jill have all come on board to help work with us on the graphic design of our labels), developed our labels to feature witty blurbs and recipe ideas. The preserves come with hand-tied ribbons and bows so they make the perfect gift. We do all the photography and scenes for Facebook, Twitter and Instagram ourselves. Look us up on our beautifully designed website at ww.joanandbobsjuicyjams.com for contact details product information and more.
So, we have come a long way since 2013. We are excited for the future of Joan & Bob's Juicy Jams. We are extremely proud to say that we have been accepted to become part of the SuperValu Food Academy. This exciting initiative has broadened our horizons considerably, and gave us small, emerging food producers a real opportunity to bring our preserves to the people in our locality. 'Shop Local' definitely puts the pleasure back into shopping for a lot of people in small towns around Ireland!