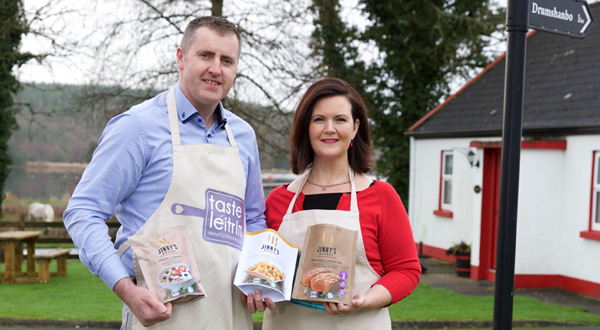 Jinny's Bakery was established in late 2003 as a small bread making business in Drumshanbo, Co. Leitrim. In the first week, Sinead Gillard made and sold 16 loaves under the Jinny's Bakery brand. Jinnys is Sinead's nickname. From that very modest start, sales have grown to over half a million-euro annual turnover with the business employing over 10 staff. Now selling throughout the West and Dublin, the company also exports to France. Supervalu has supported Jinny's throughout their growth, initially supplying six local Supervalu stores and are now poised for growth through the Food Academy Programme, launching a new range of convenient bread mixes (restaurant quality Irish Stout Bread in 4 easy steps), Crunchy Sourdough Croutons and Grace's Handmade Multi-Seed Classic Granola.
In 2007, Sinead was joined in the business by her husband Pascal Gillard. Jinny's Bakery epitomizes the achievements of a hardworking husband and wife team who together with their bakery crew have carefully and ambitiously built a business that by any standard is impressive. Hailed by McKenna's Guides as one of the "very few distinctive and creative local bakeries in Ireland", the company tagline is - it's a family thing. Jinny's combine the best qualities of an authentic bakery, nostalgia and the traditions of slow food, Jinny's also embraces the key drivers in food trends in health & wellbeing. The theme and brand promise of the Jinny's Bakery product range is wholesomeness; a strong health emphasis while maintaining superior taste and texture. For every one of their 16 years in business they have achieved an increase in sales year on year.
What makes Jinny's Bakery special?
Jinny's new range of bread mixes, croutons and granola are unlike anything on the market – they are wholly natural, high in fibre and contain no artificial colours, flavours or preservatives. The Irish Stout Bread mix is a generous portion, with each pack making 2 loaves.
Jinny's bread range is handmade in small batches from scratch. The best quality ingredients are used such as local free-range eggs, fresh buttermilk and Odlums flour. NO compromise. Jinny's use of Rapeseed Oil in their brown breads instead of margarine. This gives superior health benefits and is prominently highlighted on the product packaging and through social media and public relations actions.
The Jinny's product range has won numerous awards including Gold Stars in the prestigious Great Taste Awards, Best of Ireland Bridgestone and a National Enterprise Award 2017. Jinny's Bakery has been a member of Good Food Ireland since 2008 and is a proud and leading member of Taste Leitrim, supporting the Leitrim food community and other local business through the purchase of buttermilk eggs and other bakery ingredients.
Follow Jinny's Bakery on Facebook.