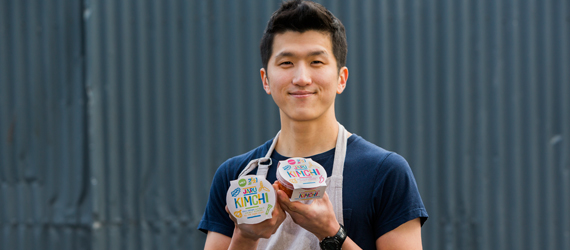 Jaru is a Dublin-based authentic Korean food production, which has started trading in July 2016 at food/farmers markets in Dublin area. The business founder Gunmoo is originally from South Korea where his family has been running a food business for over 25 years. He has been working in the food industry for years in New York, Seoul and Dublin.
Gunmoo came to Ireland in 2010 with a working holiday visa. He had no background in Ireland and also his English was very poor. He needed a job to survive, and soon he started to work in the Korean restaurant as a kitchen porter, then waiter and after two years he became a manager. Through these experiences, he found the potential of Korean food business in Ireland and Europe, and he started studying in DIT Cathal Brugha Street in 2012 to develop him and understand the Irish/European food industry. In DIT, he undertakes BSc (Hons) in Culinary Entrepreneurship and MSc in Food Product Development.
While studying, he kept working in various food operations from a fine-dining restaurant to prepacked food production in Dublin. In 2015, he travelled to New York and worked in the kitchen of Michelin-starred Korean restaurant, which was an excellent opportunity to learn the westernised Korean food. He has also travelled around the states and visited many Korean food operations from a food truck in LA to kimchi factory in Dallas. Gunmoo came back to Dublin in September 2015 and started to develop a business plan for Jaru. At the same time, he also published a thesis on an evaluation of Korean food business in Ireland, and also conducted a food product development project on Irish made Kimchi, which is now about to enter the retail market.
In July 2016, Jaru finally started trading in food markets after the long journey. The company offers hot food to customers using Kimchi such as Kimchi Fried Rice and Kimchi Taco. The company started this market business to conduct market testing and evaluate the products, but the food has become more and more popular.
Participating Food Academy has become a robust cornerstone to bring the business from an idea concept to real sales. The Food Academy has allowed the company to develop the products in various angles from marketing, sales to legislation and food safety. It was also a great opportunity to meet many of amazing producers, mentors and advisers.
The core concept of the company is to make authentic 'real' Korean food, but using locally produced ingredients, and we have always been trying to keep that idea. We travel to a farm regularly to see where our food started and communicate with farmers. We also go to a local vegetable market every morning to have the finest, locally produced ingredients. We wish to grow up with locals. The company also wish to influence many other Asian food producers in Ireland to engage with local farmers and producers in the future.