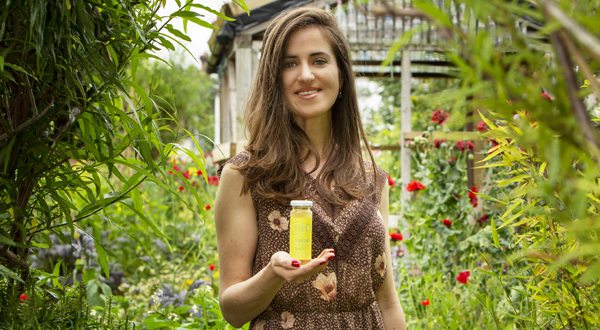 ÍON was set up in 2015 with an aim of bringing the health benefits of herbs to more people. My vision was to create conveniently presented herbal shots that people could enjoy on-the-go. As a scientist with a PhD from the University of Oxford, turned Master Herbalist, I investigated different formulae until the perfect combination of herbs was achieved that brought about a 100% natural energy boost. Feedback from a trial conducted on 30 people taking ÍON herbal shots daily showed that 87% found an improvement in their energy levels and overall well-being. The natural energy boost is owed to the unique combination of herbal ingredients including organic slow-juiced ginger root, organic Siberian ginseng and organic liquorice root.
The brand name ÍON is an Irish term meaning 'pure'. The drinks contain no added sugar, no preservatives and are gluten-free. Having made a 100% plant-based drink without the addition of sugar taste nice, is something I am proud to have achieved.
I implement ethical sourcing of herbal ingredients, maintaining the ÍON philosophy of purity and transparency throughout the supply-chain. Even the water is purified through a 5-stage reverse osmosis filter. All of our herbs come from certified organic farms. The ginger is grown on a farm where Taoism is practised, meaning the farmers work in harmony with nature. Women on this farm are given equal pay to men.
ÍON production process is entirely by hand which means great care and love is poured into every single Ginger Herbal Shot that we make. We are a team of women based in South County Dublin. We always have happy and uplifting music playing in the background while we focus on producing the best quality herbal shots.
Where other herbal shots in the market today are made using herbal extracts or flavours, I use the whole of the herb to create the formulae from scratch, never using inauthentic herbal extracts or herbal flavourings.
I wanted ÍON to be an ethical and transparent company from the start that also gives 10% of profits to charity. ÍON donates to the Lorna Byrne Children's Foundation every month. This foundation supports 3 organisations: the Blue Box Creative Therapy Centre helps to remove the emotional blocks that prevent traumatized children from learning; A Partnership with Africa fights for the rights of young women in Ethiopia and Tanzania; and UNICEF that delivers clean water and education to displaced families in Syria.
Supervalu will be ÍON's first opportunity to enter the retail market. I was once told by an industry advisor that if I want to make ÍON a success I will need to break into the multiples retail market. Supervalu is paving the way for the bright and bold vision I had when I first started ÍON – that vision of helping thousands of people integrate the medicinal benefits of herbs into their daily lives and improve their health naturally. Ginger Herbal Shot not only improves energy levels, but it also relieves digestive ailments including reflux, indigestion and nausea.
Supervalu is really helping ÍON grow and our demand is increasing. As we grow we are able to hire more employees, it's exhilarating being able to nurture new employees.