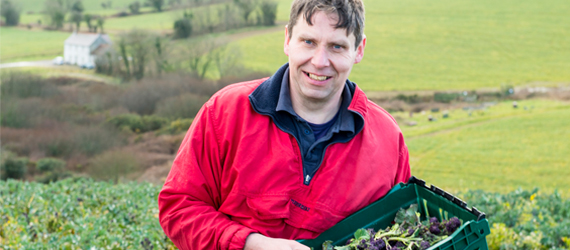 Horizon Farm is owned by Colum and Liz O'Regan. We are based just outside Kinsale on south facing land. Because of our location close to the sea we have a very long growing season. We love growing mixed leaves. The varieties we chose change with the season and are selected for the best taste texture and colour that we can provide.
10% of our farm is actively managed to provide food and shelter for as many pollinator species of bees and insects as possible. We sow a range of clover, buckwheat, mustard and Philicia to provide pollen and nectar from early spring until autumn.
We started growing mixed leaves on our small farm 10 years ago. During this time the local Supervalu, Centra and restaurants have been a great support to us.
The support we received from Supervalu has allowed us to create several part time jobs scence we started.