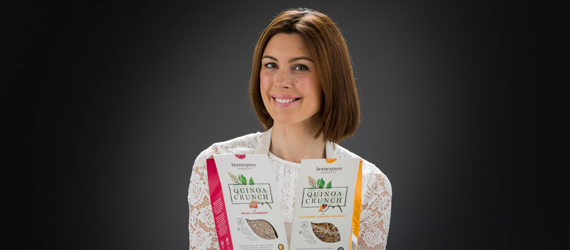 Erica Sheehan's Quinoa Crunch started out as a stall at Dublin's Honest to Goodness market, in Glasnevin. Always interested in wholesome new recipes, her crunch is a delicious blend of plant-based proteins and nature's finest superfoods, fantastic sprinkled on yoghurt or porridge. Customers loved the taste of Quinoa Crunch, the nutritious ingredients, the fact that it was gluten free and that they could enjoy the health benefits of quinoa in a ready-made format. 
In 2015, Erica started a period of market research, and using an innovation voucher from Enterprise Ireland, worked with a food technologist to refine her recipes and test them from a nutrition perspective. As a result, Quinoa Crunch was certified as high in Vitamin E, fibre, and magnesium as well as a source of folic acid, potassium and iron.
When Erica was offered a place at Food Academy, it gave her the impetus to focus on her passion and treat it as a full-time business, Homespun Quinoa Crunch. She realised that a place on SuperValu's shelves would be a key boost. 
Launched in June 2016, she took Gold and Silver at the Irish 'Free From' Food Awards. Initially supplying five stores, the product is growing through word-of-mouth, endorsements and in-store tastings. Erica found the advice and mentorship in Food Academy to be invaluable. Her next step is to extend her range to an on-the-go line and hire a full-time member of staff.