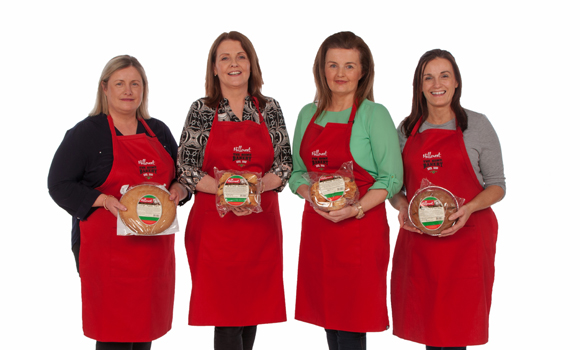 Hillcrest Home Bakery was established in May 2000 in Co. Mayo by four women, Attracta Duffy, Angela Hession, Mary Higgins Molloy and Patricia Anderson, following the closure of their employer Allfresh bakery. The co-founders saw an opportunity to establish a high quality confectionary business. We are located in a rural area on the outskirts of Charlestown in Co. Mayo, in close proximity to Roscommon and Sligo.
The co-founders of Hillcrest all take an active role in managing and working the business with each having experience of working in various departments of the confectionary sector. Hillcrest initially commenced production with two high quality products which included a large apple and rhubarb tart, made using a shortcrust rich pastry with a high fruit content. Since then, the Hillcrest product range has increased to include apple and rhubarb crumble, fruit and brown scones, ginger fruit & treacle bread rock buns and much more. All our products are handmade and home-baked.
Our very first customer was SuperValu and SuperValu stores throughout Connaught are some of our best customers. To be listed with the Supervalu Food Academy will help us at Hillcrest to get our product to a wider customer base and increase awareness of our brand. We have built our product range, through tastings in local SuperValu's and getting feedback from our customers. This gives us a great sense of pride in our Bakery and the products we supply. We would like to thank SuperValu for supporting small local businesses like our own.
Community is fundamental to Hillcrest. We employ nine people from the local area. Through the Food Academy's support of our business, we hope to increase our sales and following that employ more people from our local area. We also support charities and fundraising in our local community. We would also like to thank our Local Enterprise Office for all their assistance since we set up.