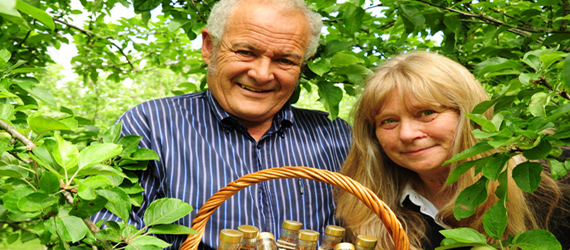 A great deal of the Calder-Potts family history is embedded in, Highbank Farm and coach yard with its beautiful stone-arched shop, orchards, lakes and apples. Highbank Organic Farm in Co. Kilkenny was built by the family in the 19th Century. The first apple orchards were planted by the family, in 1969, to compliment the hop gardens. The fertile Kilkenny limestone soils are uniquely suited to produce delicious apples organically with the varieties of apples specially chosen for their flavour.
As artisan producers, Rod and Julie Calder-Potts do know their apples. All of their production is to the strictest of organic standards. No chemicals are sprayed on the apples, neither are any herbicides or chemical fertilizers used.
Highbank Orchards is home to the original and innovative and multi award winning Highbank Orchard Syrup. With years of research, Highbank launched the Orchard Syrup in 2010. They now hold coveted awards from The McKenna Guide, The Irish Food Writers Guild and Eurotoque Ireland.
Highbank Orchards also produce several delicious Apple juices, Organic Ciders, and now, since the new installation of their distillery, a wonderful Organic Apple Gin and Organic Apple Brandey.
Just look what can be processed from an Irish Organic Apple!