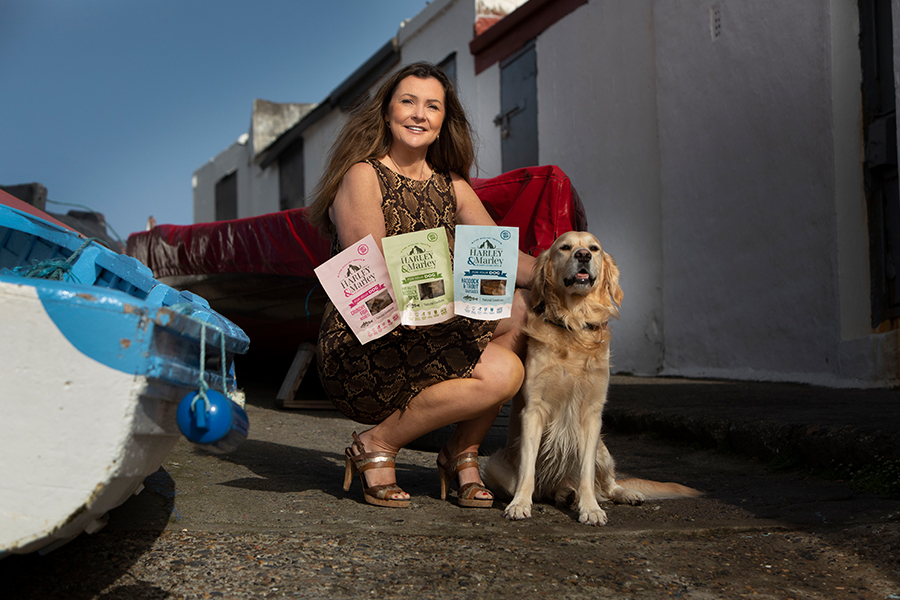 We are Robin and Portia, 2 pet-loving mothers, who discovered our shared passions while walking Harley & Marley on Killiney Hill: We love Ireland; We love our Planet; and We love our Pets. So, our story began...
In 2019, we set out to build a business that reflected our mutual values, so we created Harley & Marley – Planet-Loving Pets, delivering a range of Fine Irish Pet treats made of natural and sustainable ingredients from Ireland's unpolluted waters.
On our journey, we spoke with local fishermen, learning about the bounty of the seas and the challenges of their trade. We also learned about waste. When fish fillets are prepared for shops and restaurants, so much highly nutritious, natural goodness is unnecessarily left behind.
We also spoke with industry experts and other pet- loving parents, surveying more than 400 dog owners to learn about what matters most. Based on what we learned, we set out to create clean, locally and sustainably sourced, single protein treats, delicious in flavour and naturally nutritious
We wanted the best, most experienced partner, so we joined forces with John Kenny, co-founder of Origin-Green, BRC-certified, Atlantis of Kilmore Quay. A fellow dog lover, John has brought local and sustainably sourced quality seafood to businesses across Ireland for over 25 years. Together we experimented until we got it just right - a range of delicious fish-based pet treats, bursting with natural goodness. Under John's careful eye, our treats are hand-processed and gently air-dried, locking in the delicious flavours and intrinsic health benefits nature's ingredients provide. Our treats come in recyclable pouches, aligning to our vision for sustainability across our supply chain.
We are committed to our core values and we promise we will always strive to ensure our products reflect them. The production of our treats reduces unnecessary waste, supports the local fishing industry, and gives back to Ireland. We are really proud of that.
The SuperValu Food Academy team has offered us incredible support, and has helped Harley & Marley – Planet-Loving Pets become a proud pet treats supplier in SuperValu stores.