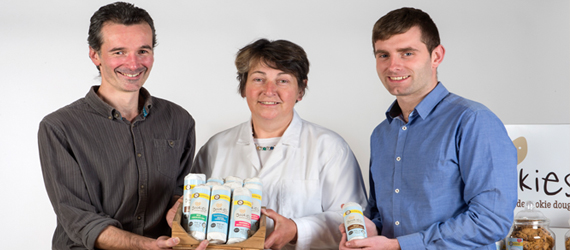 Bia Ganbreise Teo is a dedicated gluten free baking facility based in Ballingeary, West Cork. Our mission is to create a range of gluten free bakery products that enliven the world of the gluten free culinary experience.
The company was formed in 2011 and we've been serving the Irish market with gluten free produce ever since. We are a BRC Grade 'A' facility since 2014 and we want to bring our brands into the public market.
We also offer Mini Bites, small bite sized Milk Chocolate Chunk Cookies, and have launched 4 family packs, Bia's Gookies, which carry large 'American-style' cookies.The Bia's Gookies come in the same flavours as the Cookie Dough - Original, Milk Chocolate, Triple Chocolate and Cranberry and White Chocolate.
We sell our cookie dough into catering outlets around the country and the baked cookies can be found on the counters of some cafés, hotels and convenience stores in large 'cookie jars' - a perfect accompaniment to coffee or tea. We strive to bring quality to this relatively new and vibrant area of the food market and hope that by doing so, we can add a little more colour to the lives of those who have chosen the gluten free diet.
Hopefully, as our turnover increases and demand for our product becomes more widespread, we'll be able to expand our workforce to help us cater for the extra work.
SuperValu gave us our first big chance with large supermarkets. The Food Academy project gave us the opportunity to access the local market here in Cork to promote our brand and begin the process of moving it toward a national presence. The food academy stands are a great marketing platform for us small producers and really make our product stand out. The Food Academy programme has given us great insight into the workings of supermarkets and we have received invaluable advice from our mentors who have been very supportive. We would highly recommend this programme for new small producers.