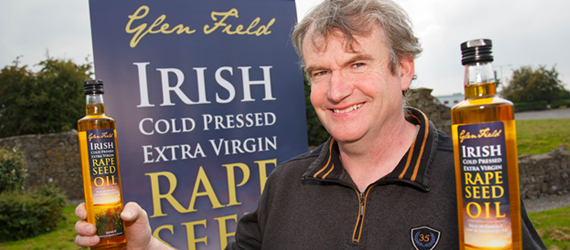 My grandfather William Larkin spent his life sowing and harvesting crops. He started when he was barely fourteen years old. With time he acquired his own steam engine and thresher. That steam engine was later operated by my father Paddy to do the harvesting for many farmers in South Offaly. The steam engine is still going. It is now in Co. Carlow, and is one of the oldest steamers in Ireland.
So it is no surprise I inherited this dedication to growing and harvesting crops. I started to grow rapeseed using the oil, pressed by myself, to run my car. The cake ( residue after pressing) was used in the central heating burner for my house. Then I progressed to marketing the oil to the equine industry. August 2013 I decided to supply oil for human consumption and at that time built my own production plant. As a result Glen Field Rapeseed Oil was born in Coolderry, Birr, Co. Offaly. Myself, Jennifer and our sons Ronan, Enda and Darragh are all involved in the production.
The Food Academy programme with SuperValu and Musgraves is now a major part of our business. Sales and turnover have increased vital to our Company. Our very first sale in November 2013 was to SuperValu, Birr and now to be in numerous SuperValu stores is something we certainly would not have achieved without the Food Academy. The advice and support we receive from Musgrave staff, and the support and courtesy from Supervalu Store Management and staff is most appreciated.
My proudest moments are seeing my oil on SuperValu shelves all over the country and receiving emails e.g. ''aawh Glen Field Rapeseed Oil what a find at my local grocery store Heneghans Supervalu Glenamaddy where I pick up a bottle every week... keep up the good work!...maith sibh go léir! '' All thanks to the Food Academy. All my family are involved in Glen Field Rapeseed Oil.