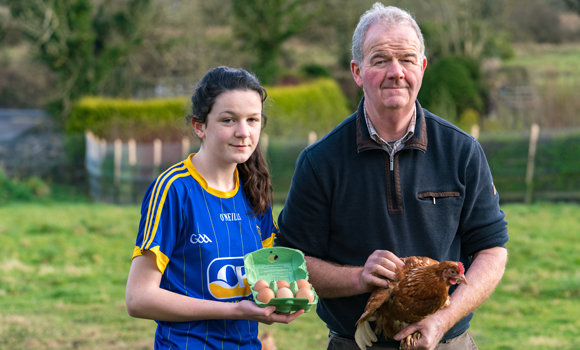 Gannons Eggs and Poultry, located close to the banks of the River Shannon, is now in its 4th generation. The business was first established in 1875 by Michael Gannon, who started by selling house to house. Michael's great-grandson Ray now operates the business in Tullyleague and his daughter Karina, the 5th generation, is involved with the Organic egg side of the business. In 1996 they built their first free range egg production house and established their brand, Carrick on Shannon Free Range Eggs.
In 2001 a second Free Range shed was built to expand production and a new purpose built packaging store with grading capacity for 7000 eggs per hour. The Gannon Family sells barn eggs, free range and organic eggs and is the longest running egg and poultry business in Ireland and the oldest business in Carrick on Shannon.
Gannon's participation in the Supervalu Food Academy programme has been extremely valuable in helping us to gain new retail outlets, rising the profile of the business and accessing potential new customers, which will lead to growth in sales and expansion of the business, bringing with it new jobs.