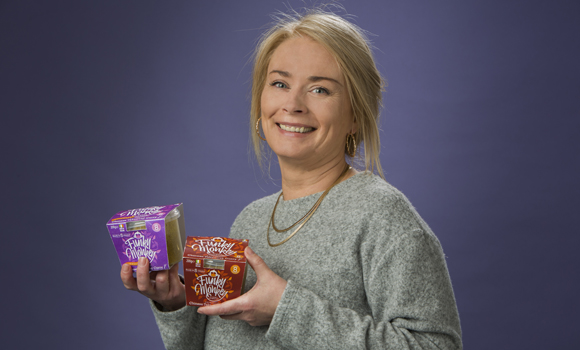 Hi my name is Deborah Crowley. I am the owner and founder of Funky Monkey Foods. I started Funky Monkey Foods in October 2016. Prior to establishing Funky Monkey Foods I was a care assistant in Saint Francis Hospice, Raheny, providing care to terminally ill patients, however my passion has always been food. I decided to set up Funky Monkey Foods to earn additional income to help put my daughter through college.
Myself and my family enjoyed getting our weekly take away and we would make store bought curry at home also. I never really enjoyed other store bought brands as I never really got that authentic Chinese takeaway taste and so I decided to make my own. I invested a lot of time in experimenting with different recipes, but after a year of trying I finally figured it out.
I trialled the curry sauce, giving free samples to family and friends, the feedback I received was extremely positive and overall it was a huge success. Due to the positive feedback received from the trials, I decided to put it up on Facebook and again the positive feedback was over whelming.
My journey really began when my husband entered me in to the Food Academy which I got excepted to. The experience and knowledge that I gained from SuperValu has been a real asset to my business and has helped me significantly. I have made connections with other business owners who have been essential in the further development of me and my company.
SuperValu Ballymun was the first store to put my products on their shelves and gave me the opportunity to do my first food tasting. Robert Murphy has been a huge support. Robert took me under his wing and I really feel that I am part of the SuperValu family.
I owe a lot to Robert and SuperValu as I feel that if I did not have the support I did from SuperValu, that my business would not have progressed as much as it has.
At the moment Funky Monkey Foods is a small family owned business, I hope with the help of SuperValu that my company will continue to grow and give me the opportunity to give back to the community and create much needed jobs.