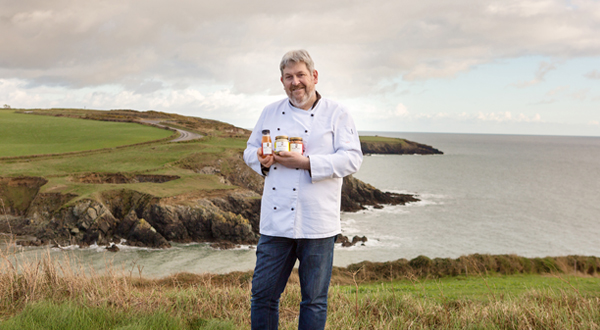 As a Chef, with over 40 years of experience I began creating artisanal food for retail in 2008 under the very successful Tastefully Yours brand.
This was primarily a food preserving business, and after 7 years of producing gourmet chutneys, relishes and pickles for the retail and food service market I diversified the business and developed the Little Thai Kitchen Brand and a range of fresh Thai Curry Sauces.
With the help of the Supervalu Food Academy the brand became very successful and I was able to secure shelf space in 25 stores in a very short space of time.
Unfortunately my health suffered a severe setback and this meant that I could not continue with the business and I reluctantly passed it on to new owners, I am delighted to see that the brand is still going from strength to strength.
While I recovered from cancer, I conducted extensive research into the whole area of the cancer survivor's diet and fermented foods and beverages kept coming up very frequently.
Fermenting food and beverages is one of the oldest methods of food preservation and since I previously built a successful business in this area I decided on creating another one and thus, Frothing Ferments was born in late 2018.
Frothing Ferments is located in the Dunhill Eco Park, Dunhill, Co. Waterford where all our products are produced in a controlled environment. Our raw vegetable ferments are hand made and cultured in small batches for 2 to 4 weeks using the ancient technique of lacto fermentation.
Lacto fermentation creates an acidic environment that safely preserves the vegetables and nutrients, protects from spoilage, renders vegetables more digestible and provides an array of natural enzymes and good bacteria. It also adds a new depth of flavour and gives lacto-fermented foods their distinctive tangy taste. People of all ages, who introduce fermented foods to their diet, believe it boosts the immune system, improves the digestion, helps detoxify the body and energises the senses.
The fantastic support given to us by the Supervalu Food Academy enables us to showcase our fermented foods and beverages and re-introduce what our ancestors knew as the only means of food preservation.
Today, Frothing Ferments produces its products not to just preserve, but also to enrich your diet with natural enzymes and friendly bacteria.
Follow Frothing Ferments on Facebook, Instagram and Twitter.