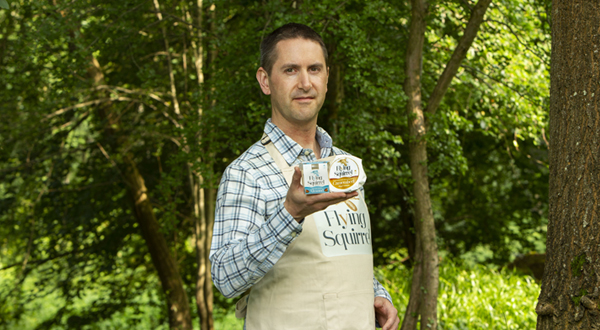 Flying Squirrel – lovingly crafted cheese from trees. Our delicious range of unique, plant-based cheese is carefully crafted with love and passion. Naturally kind to the planet.
Colm grew up in County Kildare and as a child spent all of his holidays on the family farm in rural Longford. It was here that he gained a lifelong appreciation for the outdoors and the environment and where he first fell in love with nature and animals. In 2014 Colm decided to try a plant-based diet and went vegan. He attended cookery schools in the UK and Germany and developed a real passion for food and cooking.

One food he missed was cheese and in 2016 Colm began his love of hand-making his artisan range by studying traditional, centuries old techniques of the craft such as culturing, fermentation, coagulation and ageing.

Colm set up Flying Squirrel in 2019 to develop his passion in crafting delicious, plant-based cheese alternatives. Flying Squirrel products can be enjoyed by all cheese lovers without any compromise to quality or taste.

Flying Squirrel's Camembert has a white rind and creamy centre and is made from cashews and macadamias. The Original Almond is a soft cheese alternative made using a unique method of coagulation and cutting curds. Both products can be used in salads, sandwiches, on a slice of toast or enjoyed simply with a glass of wine and some crackers.
All Flying Squirrel products are dairy and lactose-free and are suitable for vegans, vegetarians and those making a conscious decision to change their eating habits for health, ethical or environmental reasons.

"For me, the SuperValu Food Academy felt like the next organic step along this journey and turned out to be a life-changing experience. The training programme offered mentorship and support and took Flying Squirrel to new heights, confirming for me SuperValu's wonderful record of supporting local Irish food producers. My aim is to expand the business and offer employment opportunities, therefore giving back to the local community."