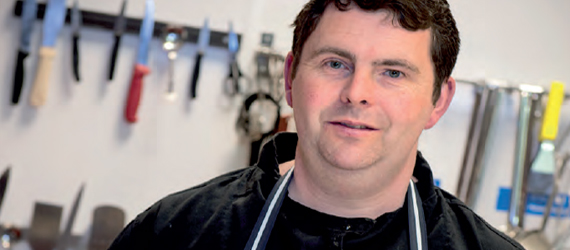 The next generation of a West Cork family is continuing a tradition for fine foods.
Brothers Aaron and Cormac McDonnell are celebrating the launch of Finder's Foods – a new food business that supplies the retail market with a unique range of chef-developed ready-meals, dressings, soups and other gourmet products.
With premises located just outside Ireland's culinary capital of Kinsale, Finder's Foods is a family-run business and a partner company of Finder's Inn, the renowned Nohoval-based restaurant that was established in the late 1970s by Celine and Pat McDonnell.
The restaurant quickly won both critical and word-of-mouth acclaim across Ireland and further afield. Launching 'Finder's Foods', Aaron and Cormac are proud to continue their parents' reputation for providing excellent quality food for the discernable customer.
The idea came about nearly five years ago, when Aaron returned to Kinsale after twelve years in the United States. He'd spent time in New York and Pennsylvania.
In New York, he had worked as a chef. Later, he moved to Pennsylvania to help run a farmhouse business. Here, he baked bread and prepared other traditional foods for the retail market.
Throughout this period, Aaron's brother Cormac had remained in Ireland fulfilling his ambition to become an accomplished chef. His experience includes fifteen years working with some of the biggest names in the Irish restaurant business.
According to Aaron, their combined talents make them a great team: "Finder's Foods has given us a fantastic opportunity to combine our skills. My brother Cormac is an excellent chef and has made a great name for himself. From my own point of view, I've gained a lot of experience selling produce at Farmers' Markets both in Ireland and in the U.S. With Farmers' Markets, you're dealing directly with the consumer. You quickly get a very good idea of what type of produce will sell. This background has really stood to me in relation to devising a product range for supermarkets and delicatessens – I feel I truly know what customers will want to put in their shopping baskets."
Unlike many competitor brands, all Finder's Foods recipes are original chef-created combinations of the most sophisticated tastes and exquisite flavours.
Maximum care and attention to detail has been taken in building an appetising product range that is totally natural, utterly tasty and completely unique.
Look out for Finder's Foods the next time you're shopping at your local supermarket or delicatessen and discover our selection of naturally great meat, fish and vegetable dishes, delightful relishes and dressings, traditional artisan bread and gourmet pâté.