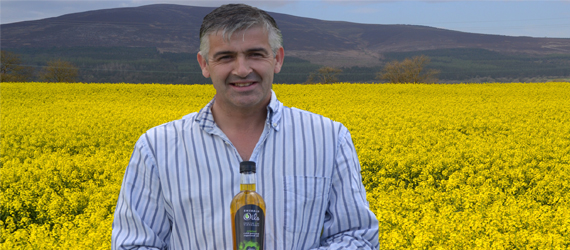 Emerald oils were set up in 2015. We are located on our 3rd generation family farm in Cashel in the heart of Tipperary and are the only producers of cold pressed rapeseed oil in Munster. We do the entire process on our family farm, i.e. Soil to Oil.
We gave three years researching the product, markets, sourcing machinery and the building of the plant before we joined the food academy program which gave us the tools, advice and knowledge of retail which we needed.
Together with being the only producers in Munster and being blessed with some of the most fertile and productive soil in Ireland has contributed to a very unique tasting oil. Not all cold pressed rapeseed oils are the same, different land types and regions give unique flavours. Emerald Oils has been described as having a deep colour, light fresh taste that does not overpower food which is why we gained a Gold Star Blas na hEireann award in 2017 and in 2018, one star in 2017 and in 2018 with judges describing our oil as a "wonderful deep colour, bright, clear, full flavour and warming finish, a perfect example of how a rapeseed oil should taste". Emerald Oils is a very versatile oil with massive health benefits.
SuperValu has given us invaluable shelf space and the platform to interact with vast numbers of customers through tastings which really helps with sales and educating the customer on the versatility and health benefits of our product. Emerald Oils currently employ one full time and two part time staff members.