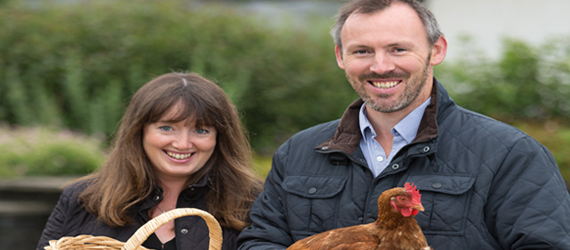 Early Bird Free Range Eggs
We have been producing free range eggs on our family farm in Ballinamult, Co. Waterford since 2005. We also joined the local farmers markets in 2005 and saw demand increase year after year. We were constantly being asked by our customers if our eggs were available in any local stores. This inspired us to investigate the possibility of supplying local stores directly and set to work on setting up our own egg packing and grading facilities.
In 2014, after many months of hard work, our new brand "Early Bird Free Range Eggs" was launched. We now have a registered and approved egg packing centre with the Department of Agriculture. This makes us unique as we are currently the only free range egg producer with an approved egg packing and grading facility in Co. Waterford. Having this approval allows Early Bird Free Range Eggs to be delivered straight from the farm to local stores.
2014 was a busy year all round as we were one of the first food producers to graduate from the Food Academy Programme (a Bord Bia, SuperValu and Local Enterprise network initiative to support small food producers). This paved the way for Early Bird Free Range Eggs to be stocked on the shelves of local SuperValu stores. The Food Academy Programme has really helped us to grow our business and support us as a small food producer. As a result of the Food Academy Programme, we have been able to employ additional staff on a full time and part time basis.
Early Bird Free Range Eggs continue to grow in popularity for their great taste and freshness guarantee. These eggs are laid by happy hens and delivered directly from our farm to your local Supervalu store.