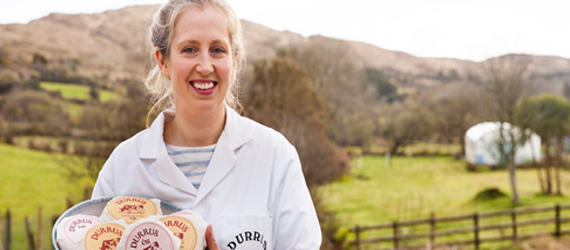 In 1979, Jeffa Gill began making cheese for her family using some of the milk from her small herd of dairy cows in the upland townland of Coomkeen near Durrus village in West Cork. Some of her earliest customers were local chefs and SuperValu store owners who recognised the merit of a locally produced farmhouse cheese. More than 35 years later the family business has grown to include her daughter Sarah Hennessy and a small but dedicated team of ladies.
Using age old traditional skills Jeffa and her team create a unique washed rind cheese that is very much linked to the land, subtly capturing variations of season in its flavour. The classic Durrus has a fruity sometimes earthy flavour and rich lingering aftertaste. The Durrus Óg is a younger cheese, with a thin slightly pinkish rind and a mild, creamy flavour. Durrus Cheese also produce a Smoked Durrus and a Dunmanus – a hard aged cheese made with raw milk in the summertime.
Today Durrus Cheeses can be found on good cheese counters and menus across Ireland, in specialist shops in the UK, the USA and even on menus as far away as Australia.