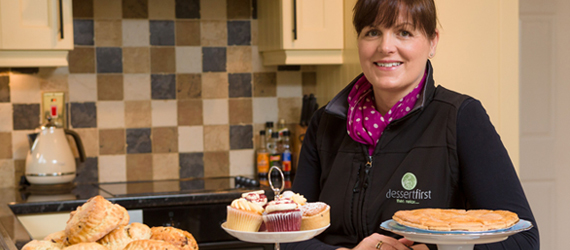 DessertFirst was set up in Ferrybank, Waterford by myself, Margaret Fleming, in 2010. I started the business because I saw a gap in the market for high quality, home baked tarts and cakes made using natural ingredients – 'Just like Granny used to make'. At that time most of the baked goods on offer locally had a very long list of unrecognisable ingredients including additives, preservatives etc. DessertFirst ethos is very simple – we use old fashioned recipes and natural ingredients to create cakes and tarts as you would make them at home without the effort.
I believe that we all need little treats every now and then so why not make them taste as good as possible. We use real Irish butter and fresh eggs in all our baking and don't add anything to our mixes that you would not find in your kitchen cupboard at home. There is a lot of recent research proving that real butter, in moderation, is not bad for you, disproving a commonly held belief. For this reason and of course for the fantastic flavour we use real Irish Butter in our products. We are very pleased to get feedback from our customers about the high quality of our products 'The proof of the pudding is in the eating…..'
We supply selected SuperValu stores in Waterford, Wexford and Kilkenny with our retail range and this has been instrumental in helping us to grow our business. We moved premises to a new unit designed and fitted out especially for DessertFirst in 2016 and this has allowed us to develop and grow the business. Completing the SuperValuFood Academy Programme gave me the confidence to take this huge step for the business as I could see the great potential to develop our customer base within the SuperValu Group.
I started out on my own in 2010, working away in my kitchen supplying a few local shops, doing everything myself. Now in 2019, DessertFirst has created twelve full time jobs and supplies our delicious range to shops in Waterford, Wexford and Kilkenny. These are sustainable jobs which contribute directly to the local economy. This would not have been possible without the great support received from Management and Staff of our SuperValu stores and the excellent Mentoring received on the Food Academy Programme.