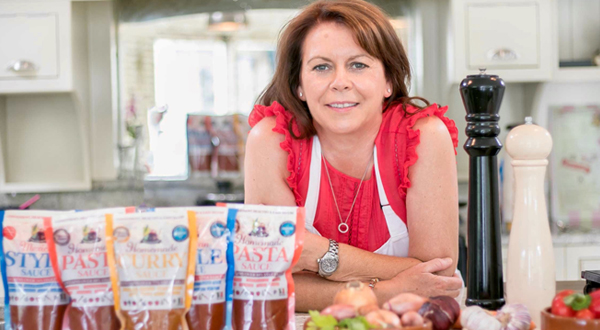 I started my business in 2014 when I found a niche in the market for healthy, nutritious, convenient & tasty sauces for kids and families.
My son Ben, at the age of 3, decided he wasn't eating anymore vegetables. Like any mother, I started worrying about his nutrition - how will I get his 5 a day into him?
My previous job was assistant manager in a very busy bank and between the long working day and commute to work, I would pop into a supermarket to pick up something for dinner, not just for Ben but for us adults too. The sauces I found had a lot of salt, sugar and preservatives and I just didn't want to give them to my young son, so I started making my own.
Ben, like many children, loved pasta, so I started with a tomato based pasta sauce. Then I thought, why not blend lots of vegetables into the sauce too - he can't see or taste the vegetables! As I was making this for Ben, I didn't add any salt, oils or butter, just lots of fresh vegetables! I spent some time perfecting my pasta sauce recipe, making it a delicious, nutritious and convenient sauce suitable for all the family and versatile to use in many different recipes.
Dan & Monstro are the names of my son's two favourite puppets he has had since he was 2. Ben invented the names Dan the Dinosaur (the character to the left on my packaging) & Monstro is the guy on the right- a monster from outer space! As Ben was my total inspiration for my business, I thought I'd call the brand after him!
I set off to my local farmers market to try out the sauces on the public. I got a very positive reaction from the customers and my business started to grow. 
As the market is quite seasonal and weather dependent, I realised I needed to make my sauces available to my customers 7 days a week & not just at the market.
This is why I am so thankful to Food Academy!
My products went live in store in Sept 2015 & as they say, I haven't looked back.
In the space of 9 months, I went from 11 shops to a further 10 more! Selling my sauces in SuperValu not only gives me great delight but it also gives me great encouragement to grow my business and go from strength to strength.
The advice you receive from other food producers, especially those producers who are more established, is great.
SuperValu welcome and encourage in store tastings which is possibly the most important way to connect you, your product, your story etc. to your market and potential customers. I'm getting great feedback from my customers - face to face with in store tastings is the best way to do this. I'm hoping to soon employ someone to help me make the sauces especially now that my business is growing.
Food Academy has allowed me to bring my business from an idea in my kitchen to the fridges of a busy supermarket. It's great to see something that you put your heart and soul into, ending up in a customers shopping trolley for them to enjoy as a family meal.