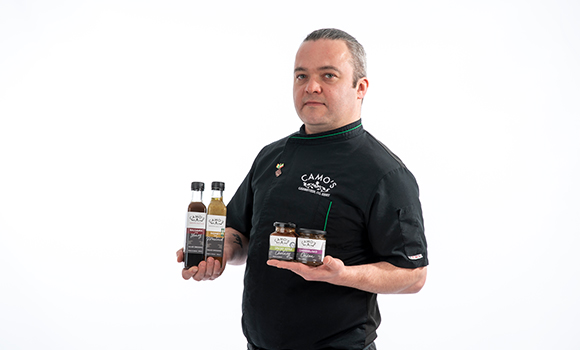 Camo's Artisan Foods, a local community inspired business steeped in family history have created a range of delicious homemade food products for the conscious consumer who want everyday access to high quality, artisan food with traceable roots.
Our mission at Camo's Artisan Foods is to hand-create and deliver flavor -packed products with real, authentic and honest origins. Using only the finest produce in Ireland, we handcraft all of our food to ensure outstanding quality and taste before it reaches your table.
Our Founder and chef Rory McCarthy, grew up immersed in the kitchen of his mother's restaurant. She was passionate about providing quality food and service using only the highest quality produce to cook for her loyal customers. Rory has carried this ethos and entrepreneurial spirit into the running of the restaurant creating menu favourites beloved by local & tourist alike. Over the years he has attained a particular notoriety for the calibre of fresh produce and the in-house selection of dressings that he uses in his dishes, with customers begging for him to share the recipes. Knowing better than to share the family secrets he set about developing a range of artisan products that would be accessible to all.
Rory's grandfather earned the nickname 'Camo' due to his calm demeanour and both the name and the calm nature have passed on through the generations to Rory himself. The original 'Camo' can be seen looking mighty dapper in his suit & hat on the company logo and packaging of 'Camo's Artisan Products', ensuring the 'Camo' legacy lives proudly on.
Every jar bearing the name Camo's Artisan Foods can be traced back to a small community in the heart of South Kerry, Ireland- from our family origins to the local jobs created to bring to life this unique range of artisan food.