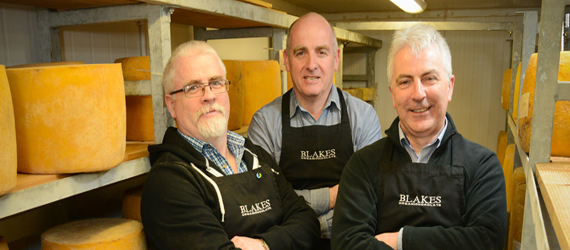 Blakes Always Organic Food Company was originally set up as Blakes Organic Chocolate Ltd in 2008. At the time of its conception, the company was based in Tuam, Co. Galway, before the company settled in its current location in Drumshanbo, Co. Leitrim. Since then, we have been busy trying to redevelop the company.
Having worked closely with Coffee and Cocoa farmers in South America, Organic coffee was an obvious product choice for us. With the help of a local coffee expert in Carrick-On Shannon, in 2016 we launched our very own blend of whole bean coffee: Blakes Always Organic 'Culture Blend' Coffee. This blend won the Bord Bia Organic award in 2017 for the Best Prepared Product category, despite stiff competition. In the Summer of 2018, we were proud to add a second blend of coffee to our products: Purely Arabica Blend.
We have also developed another locally-produced Organic product: Blakes Always Organic 'Feel Good' Kefir. This dairy product is produced in The Food Hub in Drumshanbo.
Once we had developed some successful locally-produced products, we decided to stop selling our Organic Chocolate. As we now sell other Organic food products instead of chocolate, it was time for us to look at re-branding, and so we are now trading as Blakes Always Organic.
Blakes Always Organic is continuing to grow and evolve, and as we do so, we hope to create more jobs in the local area.