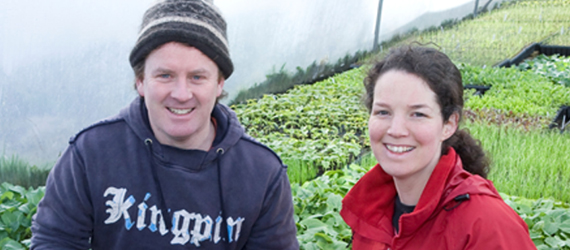 Padraig Fahy came from a farming background, learning from his father and grandfather and after doing an arts degree he travelled to India and was impressed by subsistence farmers there.
Una spent her earlier years studying an arts degree but was attracted to environmental campaigning to contribute to a better and more sustainable environment and way of life.
They met at the Organic College Dromcollogher while studying there in 1998. Together, they set up Beechlawn Organic Farm at Padraigs homeplace, in Ballinasloe with help from a very supportive extended family.
They now grow over 30 acres of organic vegetables and sell in many SuperValu stores nationwide!
"We joined the Food Academy in Co. Clare and in 2014, We were chosen as one of 30 Food Academy Advanced businesses and did one year of training and mentoring with a view to supplying stores nationwide. There is a hungry gap time of year when we don't have a lot growing on the farm so we also import organic fruit from abroad and out of season vegetables for times like that to keep supply up".
We have a committed team of 16 working on the farm who all play a huge role in its current success. We couldn't do it without our brilliant staff who work in all weathers and contribute to a great atmosphere around the farm" Padraig said.
In 2018 we introduced 100% compostable packaging to our range. We grow over 25 different crops including carrots, parsnip, beetroot, kale, spinach and broccoli. In 2019 we have put a new focus on biodiversity on the farm with pollinator and wildlife friendly verges and hedgerows.
Beechlawn Organic Farm are producers and distributors of Organic fruit and vegetables. We aim to bring healthy food to our customers; grown by our team in a sustainable way. We are happy in our work, we feel good about what we do!