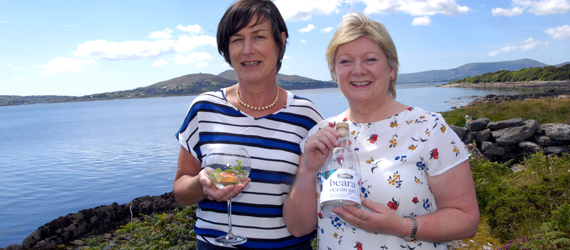 The idea of starting a craft Gin distillery came about during family chats when Eileen Brennan "nee Power" and her brother John decided to look closer at the idea of starting a Craft Gin distillery in Beara.
Like many ideas sometimes the idea seemed good and then not so good, but over the past two years in particular the Gin Industry has flourished so it was time to stop dreaming / talking and start planning. After much deliberation on equipment and the building we settled on renting a Unit at Castletownbere commercial park and decided on specific Stills, so it is time to get the distillery going, with Eileen at the wheel and learning the trade she will manage the business supported by the family.
In giving our Gin a personality we want to bring the magnificent Marine heritage of the Beara Peninsula and the Family out in our Gin. Eileen's research along with ideas from all gave us the idea to use the un-spoilt salt waters of our West Cork coast in our Gin along with the sugar kelp that blankets the shores only to be sweetened by the Fushia and Honey suckles that colour the hedge rows of the peninsula.
This Gin Infused with Salt Water will be completely Unique to Beara Distillery.
Salt water with it well known healing properties will soothe the pallet!                                          
                      "The Cure for everything is Sea air or Salt water"
The Power Brothers are directly Involved in the Fishing industry for over thirty years. During this time, we owned and Skippered our own Trawlers after learning the trade from our fellow crew members and our Uncle Joe Joe O'Sullivan.   The connection one gains with the sea during a life time builds a bond with the sea that can only be felt by one that respects its power and majesty, knowing and understanding its power and the ability to change.
The vast Maritime history of Beara goes back until records began when it got the name " Beara".  During an early century AD. Eoghan Mór " King of Ireland"  named the Peninsula after his Spanish wife Beara while standing on the highest hill in Bere Island after sailing with their army from Spain.
Now Beara enjoys a modern marine life with a vibrant Maritime community where Castletownbere proudly holds the largest white fish fleet in Ireland along with maritime tourism and Aquaculture.
The Beara Distillery producing Beara Ocean gin will create jobs in this area while educating those who will drink it, where we are and what we are.