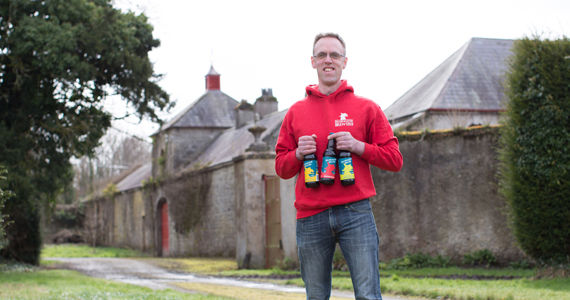 Ballykilcavan Brewing Company
David and Lisa Walsh-Kemmis set up Ballykilcavan Brewing Company on their tillage farm at Ballykilcavan, Stradbally, Co. Laois in 2016.  The farm has been in David's family for 13 generations since Oliver Walsh bought it in 1639.  With tillage incomes falling all the time, David and Lisa realised that they would have to diversify to secure its future, so they are setting up an on-farm brewery that will source 100% of the barley it uses from the farm. They have also established two new hop gardens at Ballykilcavan, and release a special beer every autumn where all the barley and all the hops are grown on the farm.
The family has been growing malting barley for at least three generations, and David has been home-brewing for 12 years, so setting up a brewery was an obvious choice.  David spent two years training to become a brewer and a maltster, and passed both exams with the Institute of Brewers and Distillers with distinction.
Preserving the farm for future generations is one of the main motivating factors in setting up the brewing company, so David and Lisa have made every effort to connect their beers to Ballykilcavan.  Each beer is named after a field name or place on the farm, and by using only their own barley, they can show the full provenance and traceability of their most important ingredient.  It also gives a real sense of terroir, where every element of malty flavour in the beers comes from their barley, and the ground at Ballykilcavan where it was grown.
The brewery is being installed in a 230 year old stone grain store, and will be the centre of a new tourist destination. David and Lisa are going to install a visitor centre and taproom for the brewery, an artisan food hub for other small food businesses and walks and trails around the fields and the 180 hectares of mature native woodland forestry on the farm.