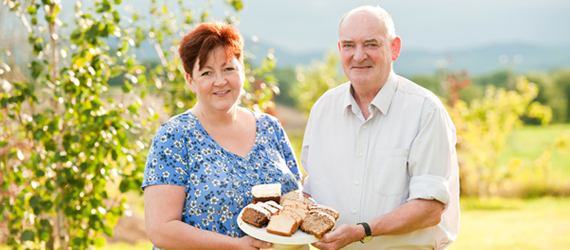 Ballyhogan Country Kitchen was set up in 2010. It was born of necessity after John was made redundant during the recession. With no income, he started producing a few home baked scones for some of the local shops. They liked them, so we tried some soda breads, and when we started making Apple Tarts – well, people would ring us up and tell us they hadn't tasted a tart like ours since they were small in their mother's kitchen!
Apple tarts are still our most popular product. We make our pastry using real butter, and the best natural apples we can find. The result is a truly delicious tart – just like your mother used to make. We aren't trained chefs, so we make the products we sell exactly the same as if we were making them for ourselves. We think this is why people love them so much – they just taste so good.
Ballyhogan Country Kitchen has grown organically. We didn't start off with a plan, things just kind of grew gradually, as we supplied a few more shops or tried another new product.
In April 2015 we joined the Food Academy programme run by Super Valu in conjunction with Musgrave, Bord Bia and our Local Enterprise Office. This programme has really given us a chance to grow our business into something that could provide a real future for us. The individual Super Valus are very welcoming and only too happy to give our products a try, and the support we receive from Musgraves is invaluable. As we team up with other small, local food producers, we can really feel part of something that's relevant, exciting and growing.