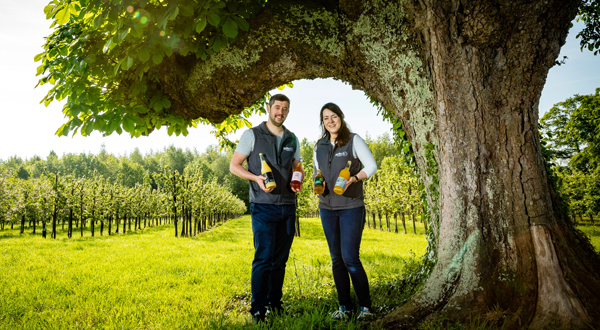 Here on the historic Attyflin Estate we are custodians of land that has produced food for hundreds of years. Today, we are reviving this legacy. On this wonderful country estate spanning 250 acres of Irish countryside, we grow, pick and press the finest of fruit to create a range of award winning natural fruit beverages and Raw Apple Cider Vinegar. This fruit is grown on our 20-acre apple orchards – home to 15 different apple varieties and in our 200-year-old walled gardens.

A decade ago we began to think about how to use the heritage of the Attyflin Estate, its available lands and natural resources to create a brand with authenticity, quality and trust at its core. We started to see ways of tying the Estates' amazing history of food production to an authentic consumer brand. We were also travelling throughout Ireland and Europe to learn about food production and simultaneously saw that things were changing in consumer attitudes. Consumers wanted to know more about where their food was coming from. We could see that growing fruit for the production of a range of natural fruit products was a great way to revive the heritage of the Attyflin Estate and simultaneously satisfy the growing consumer trends of buying natural products they could trust.

Fast forward to 2018 and we are working with the Supervalu food academy to bring our range of natural fruit beverages and Raw Apple Cider Vinegar to Irish consumers. We've also been able grow our team on both the horticultural and operations side of Attyflin Estate. Looking forward, we want to not only tell our story but allow consumers to experience first hand how we grow, pick and press our range of products by coming onsite and seeing our estate first hand. This experience will be coming in 2019.