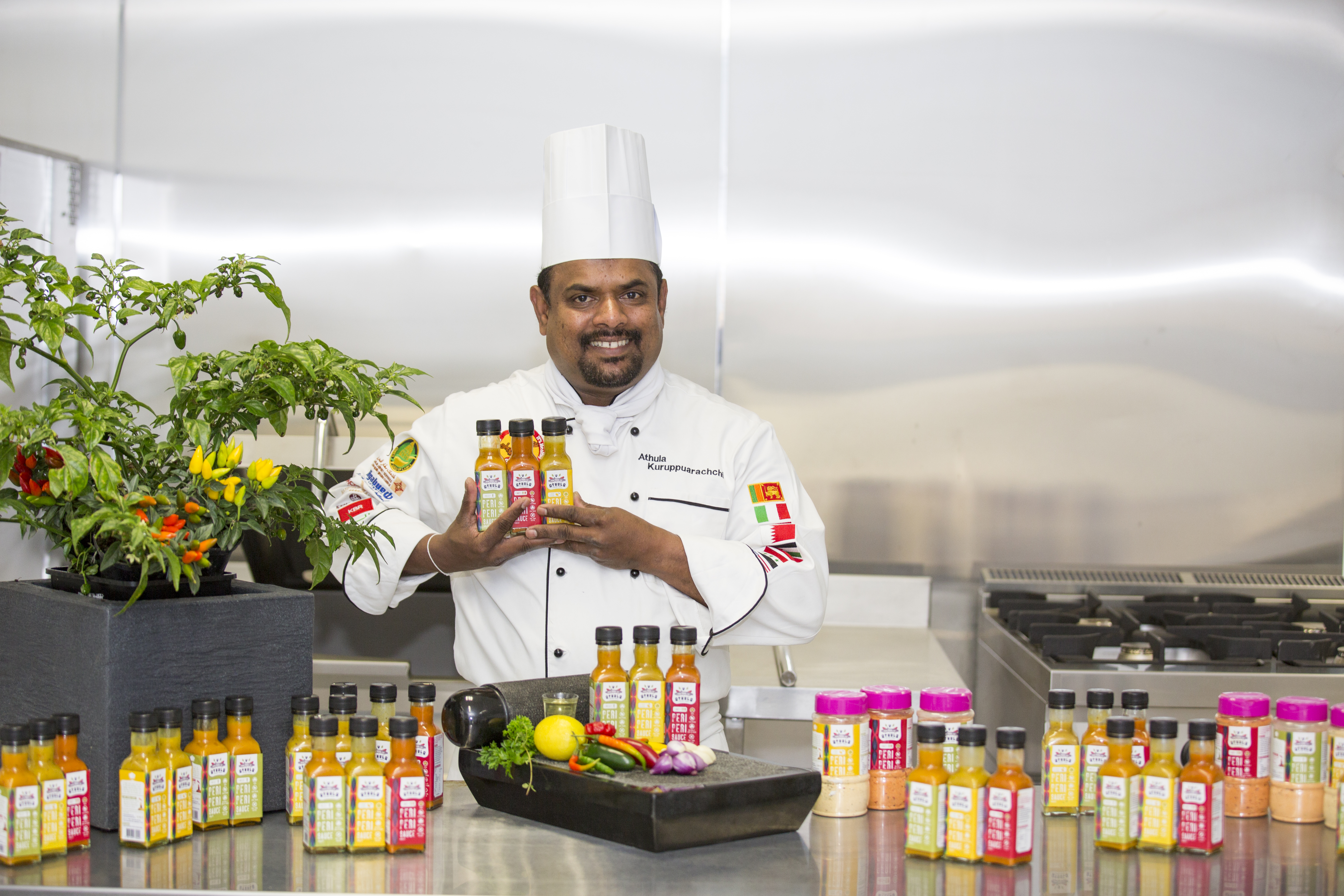 As a boy growing up in Sri Lanka off the southern coast of India I used to watch as my grandmother gather fresh ingredients from our garden every day to make simple, delicious dishes for our family.  Everyone in the village grew their own food – garlic, red onions, coconuts, chilli and lemons – on small farms or in their own back gardens. Rice was harvested twice a year – the children would help to beat off the husks by hand before it was stored indoors. Everything the family ate was fresh and natural which I believe is the essence of good, healthy food.
My mother and grandmother would create mouth watering lunimaris – a traditional Sri Lankan paste – at our kitchen table. The ingredients – chilli, lemon, garlic, spices – were stone ground on a miriscala, a traditional grinding stone, into a paste to be served with rice or roti, a flatbread which can be flavoured with chilli or coconut. I can still recall the taste of the aromatic curry paste ground from fresh herbs and spices.
Our small sundrenched village was a far cry from the 5 Star Hotels like the prestigious Ramada Rennaisance Hotel in Sri Lanka where I worked as a chef honing my skills and learning how to create and develop recipes for dishes and sauces with unique flavours and taste. I have won many awards as I've progressed in my work: Bronze in the Gastronomic Group from Bahrain Salon Culinary; Gold And Silver in the Chefs Guild Sri Lanka; and later winning Best In Class and Best Bistro Awards for my Perrott Restaurant at the 5 Star Hayfield Manor in Cork.
But there was one message that stayed with me as I travelled and worked across the Middle East, China and Europe: Keep your ingredients fresh and natural.
I came to Ireland in 2005 to work in the highly acclaimed Hayfield Manor in Cork progressing to award winning Head Chef and earning the title Employee of the Year in 2010.
As a child I always wanted to run my own restaurant and I did, In Sri Lanka for five years. Another dream came true in 2012 when I opened  'Rooster Pil Pil' in Ballincollig specialising in Curries & Asian Fusion food with a nod towards the Irish palate. Here I could experiment and develop my own stone ground curries and lunimaris which are the base for a range of my signature dishes and sauces. I wanted to capture the unique flavours of my childhood but adding ingredients that I know Irish people particularly enjoy. My recipes blend the traditional south Asian flavours with a subtle mix of Irish herbs and spices.
The Irish and Sri Lankans, I have found, share this: we both have a strong tradition of cooking simple, fresh and natural ingredients. Our Trip Advisors reviews of Rooster Pil Pil said it all: "wonderful food", "the best chicken ever", "superb", "excellent food", "crunchy and tasty", "so excited"…
The fulsome compliments from my customer's comments inspired me to take the next step: to produce a range of my fusion sauces for the Irish market. I've invested 27 years in perfecting my recipes and at this stage, I am excited about bringing these great tastes to your table. My sauces can be enjoyed with sizzling chicken, duck , fish and vegetables, creating an authentic and delicious meal quickly and easily.
Without compromising my commitment to using fresh and natural ingredients.
Back in sunny Sri Lanka, I now have a farm where I grow a whole range of spices along with coconut and lemon trees. In time, as my range grows and develops, I intend to use this produce to make my sauces together with Irish herbs and spices sourced locally.
My promise is to deliver a range of great tasting curry and fusion sauces blended with expertise using fresh and natural ingredients at a fair price. Athula's Food Ltd will use the highest industry standards and will be environment friendly.
My grandmother, who by the way, lived to be almost 100 years, would be so proud to see her authentic recipes and expertise brought to life far, far from her village in Sri Lanka and onto the Irish table.