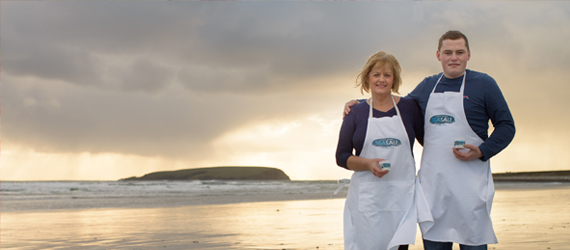 Achill Island sea salt was founded as a family business in 2013 with the ethos of creating a sustainable product from Achill Island whilst renewing the age old, long forgotten tradition of salt production on the island.
Our sea salt production began in the time honored style of the family kitchen. Growing demand seen us move to a custom modified facility on Achill Island in September 2016.
Achill Island Sea Salt is hand harvested from the waters that surrounds Achill Island. The fresh water that runs off the island's mountains combine with the wild Atlantic Ocean provides us with unique conditions for harvesting this natural product. We combine traditional and modern methods to create a pure white sea salt that is soft and flaky and known for its quality and unique taste. Achill Island Sea Salt contains no preservatives or anti-caking agents and contains over 60 naturally occuring trace elements.
Our aim at Achill Island Sea Salt is to create a great tasting, pure and natural Irish sea salt using natural and sustainable production methods. We want to offer a healthier sea salt that will inspire our customers to create great tasting dishes using the best of produce that Ireland can offer.
We hope to contribute to the local economy by promoting sustainable industries and creating employment.
Being part of the Food academy has been of great benefit to our business as it allows us to bring our product to an ever increasing market. In-store tastings have provided us with the opportunity to show case our product and to explain its nutritional benefits and unique characteristics to our customers.