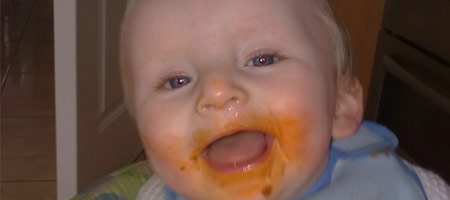 As they become toddlers, many children develop fussier eating habits or have smaller appetites. As long as you're offering healthy foods, don't feel you're a 'bad mother' if, at certain times, your child chooses not to eat.
If the child doesn't seem hungry, let him/her leave the table, and try again five minutes later. If you do this twice but resistance remains, just accept that the child may not be hungry. Don't give in to the temptation to offer a dessert or sweet just to encourage eating.
Also, don't be afraid to try different foods, but if they are rejected, don't take it personally.
Peer pressure works with children so invite friends and their children over for a meal: eating with others will encourage your toddler to eat better.
Food quirks are common: your toddler may insist on the same food over and over again, or develop eating habits like a need to eat foods in a certain order. Don't worry: this is normal, and most children grow out of it eventually.
For lots of other information, be sure to join everymum's Facebook Page where over 65,000 parents are actively sharing stories and advice daily.