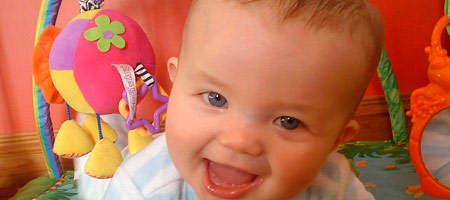 Tips on Dressing a Baby
Make sure you have all the clothes you need within easy reach.
Lay the baby on his/her back in a spacious, comfortable area.
Start at the top and work downwards.
Put one arm and then the other into the sleeves. Put your fingers in the sleeve from the wrist end to catch the hand and pull it through.
Putting on a one-piece stretch suit
Lay your baby on the open stretch suit.
Put his/her arms in first and then concentrate on the legs.
Do up the poppers.
Remember: light layers of clothing are best because you can add to them or take them off if your baby is too cold or too hot.
Tips on Getting your Baby to Sleep
Establish a good bedtime routine as early as possible: bath your baby, and then dress him or her in a clean nappy, a cosy vest and a sleepsuit.
Feed your baby in a quiet, darkened room and gently put him or her down.
Always put your baby down to sleep on his or her back, with feet at the foot of the cot, and bedding (light layers of sheets and cellular blankets) that can't reach any higher than the shoulders. This is vital to prevent overheating.
Alternatively, buy a baby sleeping bag appropriate to your tot's age and stage. Never use a duvet for a child less than one year old.
Avoid putting your newborn down if he or she is already asleep. Your baby needs to learn how to nod off without you being present.
eumom's Newborn Area is packed full of helpful articles and information to help you enjoy this special but very new time.
New Baby Clothing Tips
First rule: comfort and practicality are paramount.
Try not to choose clothes by the 'age' on the label – instead keep an up-to-date record of your baby's height and weight handy and use these to choose clothes that will fit.
Wash your baby's new clothes before their first use. This will remove impurities and soften the clothes so that they're comfortable against the skin.
Soft, natural fibres such as brushed cotton or cotton fleece won't irritate your baby's delicate skin.
Choose machine-washable clothes– you won't have time to fuss over washing.
Bodysuits help keep nappies in place and are warmer than ordinary vests.
Buy clothes that open down the front – they make it much easier to dress a baby and change nappies.
Many babies hate their face being covered, so look for items with wide envelope-style necks.
Avoid lacy knits as babies can easily get their fingers caught in the holes.
Check that socks, tights and bootees are not too tight.
As a rule of thumb, your baby should wear just one more layer of clothing than you do.
Also watch out for your baby's feet becoming too hot or too cold in a baby grow, and always take an extra pair of socks with you when it's cold outside.
Stains: Most baby-related stains (possetted milk, sick, wee, poo, breast milk or medicine) can be safely washed out of clothing. Just use a Non-bio and carefully follow the manufacturer's instructions.