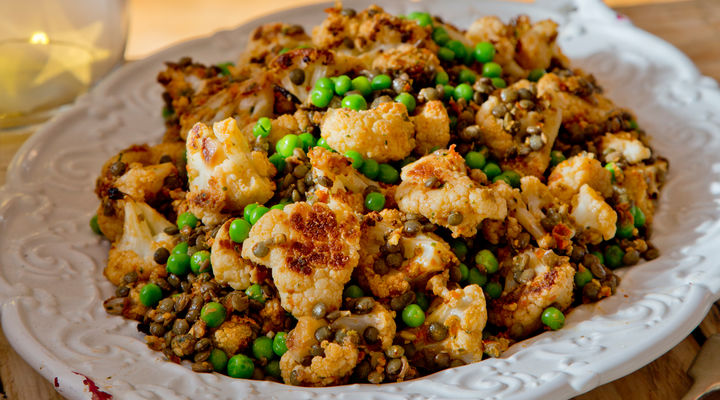 RECIPE OVERVIEW
This recipe serves four as a side salad. This is a simple salad that works fab served warm or cold. The sun-dried tomato pesto adds a strong, delicious flavour
400

g

Green Lentils

or brown lentils, drained and rinsed

1

head

SuperValu Cauliflower

1

tub

The Happy Pear Sundried Tomato Pesto
Method
1. Preheat the oven to 200°C/gas mark 6.
2. Remove the leaves and hard centre from the cauliflower and discard, then cut the cauliflower into small bite-sized florets. Put the florets on a baking tray with 2 tablespoons of the oil and the salt and mix well.
3. Roast in the oven for 25 to 30 minutes, giving it an occasional stir, until the cauliflower is starting to brown and char slightly all over.
4. Remove from the oven and leave to cool if you plan on serving this salad cool or else jump straight in if serving warm.
5. Meanwhile, boil the kettle and put the frozen peas in a heatproof bowl. Pour over enough just-boiled water to cover the peas and leave to thaw.
6. Drain, rinse and put back in the bowl you thawed them in, doing your best to remove any excess water.
7. Put the roasted cauliflower, lentils, half of the tub of pesto and the remaining 2 tablespoons of oil in a large bowl. Mix lightly using your hands to ensure everything is well combined and coated with the pesto.
8. Transfer the cauliflower mixture to a large serving platter, then scatter the peas on top to give a fresh burst of colour. Serve warm or cold.
Be the first to add a review.